Massachusetts Population Estimates by County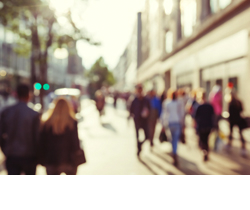 On March 30th, 2023, the U.S. Census Bureau released population estimates for July 1, 2021 through July 1, 2022 for Massachusetts and U.S. counties. According to the new county-level population estimates, the greatest numerical increases in Massachusetts counties from July 1, 2021 to July 1, 2022 were seen in Norfolk County at 839 net persons gained; Worcester at 795; and Bristol at 173. Plymouth County was the fourth fastest grower this year with 150 persons added net. In terms of percentage change, the largest net gains were in Norfolk County and Worcester County, both, approximately, with a 0.1% increase from 2021 to 2022.
The slowest growing counties in the 2021-2022 period by number were Suffolk, with an estimated 5,384-person net loss; Hampden, with an 1,808-person net loss; and Berkshire, with an estimated loss of 762 persons. The largest percent decreases were in Dukes (-1.1%), Suffolk (-0.7%) and Berkshire Counties (-0.6%). Population loss in these areas during the 2021-2022 period can be attributed to a number of factors, including a reversion to pre-pandemic trends, as seen in Berkshire and Dukes County. During the pandemic, many people moved to seasonal homes in the Berkshires or Cape and Islands, but the extent to which these moves are permanent is yet to be discovered. Domestic migration into these areas remained robust in 2021, but we now see a reversal of that trend. See the dashboard below for more information on the county-level population estimates.
County-level estimates are produced by the U.S. Census Bureau using the latest data available for the various components of change, which include births and deaths, domestic migration (within the United States) and international migration, and the group quarters population for each county. During the period of July 1, 2021 to July 1, 2022, seven counties in Massachusetts had a positive net natural increase in which the number of births was greater than the number of deaths. These counties were Middlesex (+3,954), Suffolk (+3,375), Norfolk (+1,007), Essex (+942), Worcester (+860), Nantucket (+62), and Dukes (+18). Counties with the largest negative net natural increase were Barnstable (-1,672), Berkshire (-736), Bristol (-479), and Hampshire (-455).
The migration figures within the components of change estimates show almost all Massachusetts counties—12 out of 14—have negative domestic migration, meaning populations have moved from these counties to other counties within the U.S. However, international migration has made a strong comeback in the V2022 estimates series for Massachusetts, with more than triple the number of international migrants coming to the State in 2022 compared to 2021. Despite the increase in international migration, the domestic outmigration figure still outweighs the influx of international migration between July 1, 2021 and July 1, 2022, particularly in Middlesex and Suffolk counties with domestic outmigration totals of -18,102 and -18,434, respectively. See the dashboard below for more information on the components of change estimates by Massachusetts county.
For more information about the Vintage 2022 county-level population estimates, download the full UMDI report and prepared workbook below or visit the U.S. Census Bureau's program page at: Population and Housing Unit Estimates Tables (census.gov)