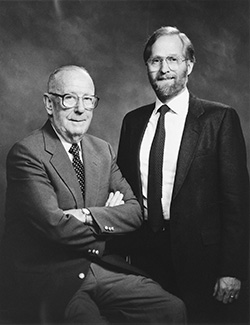 Since its founding half a century ago, the UMass Donahue Institute has continually expanded its reach and expertise. It evolved from the Institute for Governmental Services, primarily focused on consulting for state and local governments, into an organization known worldwide today for economic research, program evaluation, consultancy, and workforce and educational initiatives. Read on and watch our 50th-anniversary video.
The Institute is named for the late Maurice A. Donahue, former president of the Massachusetts State Senate and a legislator of uncommon integrity who helped shape the state's public higher education landscape. Mr. Donahue and Dr. Arthur Eve, a faculty member in the UMass Amherst School of Education, created the Institute for Governmental Services in the 1970s.
In the mid-1980s, under Dr. Eve's leadership, the Institute for Governmental Services expanded its clients and services to include research and evaluation and workforce development projects for corporate clients and the non-profit sector in addition to its established client base with state and local governments.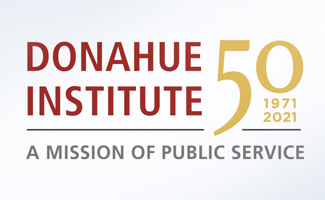 As the University became a five-campus system in the early 1990s, the now-named UMass Donahue Institute began to undertake special projects for the UMass President's Office including outreach as well as economic development and analysis. During this era of expansion, the Institute partnered with the Federal Reserve Bank of Boston to launch the influential MassBenchmarks journal, began work on state economic plans, and positioned itself as a competitor for large federal contracts. In 2020, the institute joined UMass Amherst, the Commonwealth's flagship campus and among the top-tier public universities in the U.S. In 2021, the institute celebrated it's 50th year of public service and outreach.
Over the last decade, the Institute has sponsored and coordinated civic and international education programs, worked on early childhood development initiatives and assumed a critical role in the Massachusetts STEM initiative including coordination of the state's annual STEM Summit since 2004.
The continued growth and dynamic service of the Donahue Institute today and into the future continue to be a testament to the dedication and vision of Maurice A. Donahue and Arthur Eve.