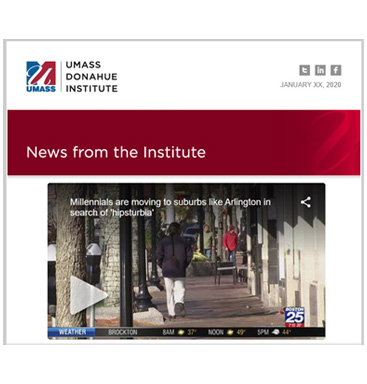 December 2021: Preserving farmland, our JEDIB journey, training Pakistani journalists, leadership & new manager webinars, casinos' impact on real estate.
July 2021: Introducing Executive Director Johan Uvin, Boston and Springfield (MA) housing studies, leadership & new manager webinars.
March 2021: Measuring prevalence of COVID in Massachusetts, middle school student benefit from financial literacy program, international exchange during the "Zoom era".
November 2020: Continuing through the pandemic, two federal childcare assistance grants, economic disparities during the age of COVID, evaluation "Influence 100".
March 2020: Special update on institute activities during COVID-19.
Winter 2020: The Lure of "Hipsturbia, 2020 STEM Summit, Video: Connected Beginnings, MassHire Greater Brockton Career Center
Fall 2019: StrongStart launches, MassBenchmarks Journal focus on housing, highlighted publications
Summer 2019: Connected Beginnings Training Institute, Experience Autism, and the growing influence of Boston area immigrants.
Spring 2019: The growth of Boston Logan Airport, Pakistan trip, and Nonprofit Funding & Fiscal Solutions
Winter 2018: 15th Annual STEM Summit, casino impacts on Massachusetts, workplace communications skills focus of ODLS
Fall 2018: EPPR video, Pakistani artists, MassBenchmarks, nonprofits learn about program evaluation, CareerWorks is now MassHire, the economic impact of the Mass. leisure, tourism and hospitality industry
Spring 2018: Lynn Griesemer retirement, Head Start and STEM, Boston's "Creative Economy", Promoting Equality in the Workplace, population trends and estimates
Winter 2018: MassBenchmarks 20th Anniversary, Cape Cod 2nd homes, teachers in Pakistan, Puerto Rican populations, MA State Data Center
Fall 2017: 2017 STEM Summit, visiting groups to UMass Amherst campus represent 24 countries, sustainability resources for teen pregnancy prevention programs, CareerWorks awarded contract to provide job services in Brockton, ODLS newsletter spotlight
Summer 2017: Impact of New England's creative economy, online course for high school credit recovery, international academic groups in Amherst, MassBenchmarks for Spring 2017
Spring 2017 (inaugural issue): Factors in Mass. business location decision-making, Civic Initiative in Pakistan, young adult labor force participation declines, Head Start anniversary, 2016 STEM Summit, population growth by town in Mass.