Strategic Planning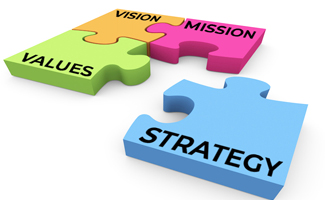 Without effective planning, organizations can make costly and time-consuming mistakes that can thwart the business improvement process.
Our senior consultants can work with your executive team to:
re-align strategic goals;
define metrics for tracking progress;
re-prioritize strategic initiatives in alignment with goals; and
increase accountability to ensure follow-up on action items.
We will help ensure that your senior leaders work more collaboratively and productively to create a strategic plan that is practical, relevant and actionable.
Our approach:
Phase I: Strategic Plan Preparation. In this initial phase, we review existing relevant organizational information and clarify the overall expectations, stakeholders and timeline for the initiative.
Phase II: The Situation Assessment. This phase includes the audit of the organization's internal capacity and infrastructure (e.g. staffing plan, budget and fiscal operations) and environment (e.g. external threats and opportunities) to provide critical information for informing the development of the strategic plan.
Phase III: Articulating Vision/Mission and Critical Issues. This phase includes a vision exercise, review of the mission statement, review of situational assessment and identification of critical issues.
Phase IV: Identifying the Strategic Directions and Strategic Goals. Using the strategic goals as a guide during this phase, the group identifies core programs and initiatives, as well as key infrastructure, staffing, organizational systems, and overarching fund development needed to support these programs and initiatives.
Phase V: Creating/Reviewing the Written Plan. In this final phase, we produce a draft strategic plan for the client's review, incorporate changes and produce the final written plan.
Note: Our strategic planning consulting services are offered in conjunction with our UMass Donahue Institute sister business group, Nonprofit Funding & Fiscal Solutions.