Listing of organization-wide leadership.
Eric Heller
Executive Director
Eric Heller, Ed.D. first joined the Donahue Institute in 1985, when he helped launch its Applied Research and Program Evaluation group. As the group's director from 1988, he was instrumental in developing its approach to client-responsive, applied social science research and continually expanding its capacity to serve the needs of the Institute's diverse clientele. In 2011, Dr. Heller became the Institute's Deputy Director. 
Prior to joining the Institute, Dr. Heller served as associate director of the Perach Tutorial program at the Hebrew University of Jerusalem. Similar to the Big Brothers/Big Sisters organization, Perach created and supported mentoring relationships between university students and elementary school children living in under-served communities.
Dr. Heller received his doctorate and masters in educational policy, research, and administration from the University of Massachusetts Amherst. He earned his bachelor's of arts in education and sociology at the Hebrew University of Jerusalem.
(413) 545-5934
.(JavaScript must be enabled to view this email address)
Carol Anne McGowan
Associate Director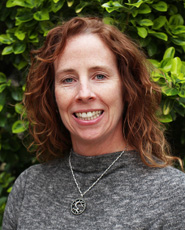 Carol Anne McGowan, M.A., M.B.A. works closely with the executive director to develop and implement management strategies, systems, and practices across the Institute. She is directly responsible for overseeing all fiscal and human resource functions. Previously, she served as the organization's director of administration and finance. Ms. McGowan first joined the Institute in 2000 as a member of the Financial Management, Education and Training (FMET) team. She spent over 10 years with FMET developing curriculum and instructing in the areas of government finance and accounting for the U.S. Department of Defense. In addition to her role as associate director, Ms. McGowan has developed a credited course on post award management of grants and contracts, which she will teach on occasion through UMass Amherst's Isenberg School of Management.
Ms. McGowan received her master's of arts in human resources and organizational development from Webster University and a master's in business administration from UMass Isenberg School of Management.
(413) 545-6654
.(JavaScript must be enabled to view this email address)