Event Management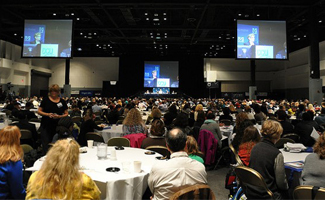 By definition, an event has a beginning, middle and end and we thoughtfully assess the elements of each. All of our events are designed with an end goal in mind and are customized precisely for your audience, objectives, and desired participant experience.
Conference planning: Our team is uniquely positioned to offer a range of conference and event-planning services. Our capabilities include event scheduling, logistics planning, sourcing speakers and presenters and arranging accommodations.
Group facilitation: Our network of senior consultants can provide group facilitation to achieve specific outcomes, from team-building, issues resolution, goal-setting, or focus groups to collect needed data.
Project management: Many of our client organizations need to run large complex projects in order to achieve their organizational goals, but they do not have the time or skills to successfully manage the project timelines, the resources or the budget. Let our skilled team of project managers handle all of your project logistics to ensure that you meet your stated objectives on-time and within budget.
We have successfully provided conference services on an on-going, annual basis for many state agencies, non-profit organizations, and private industry clients. Learn more.