State-level Population Estimates for Massachusetts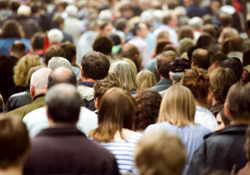 On December 21, 2021, the U.S. Census Bureau released its first set of annual population estimates for U.S. States and Puerto Rico based on the April 1, 2020 count: the Vintage 2021 estimates for July 1, 2020 and July 1, 2021. According to the Census Bureau's latest release, "the population of the United States grew in the past year by 392,665, or 0.1%, the lowest rate since the nation's founding. The slow rate of growth can be attributed to decreased net international migration, decreased fertility, and increased mortality due in part to the COVID-19 pandemic."
Massachusetts was among the six out of nine Northeast states that lost population since the April 1, 2020 count, according to the latest estimates. The Massachusetts population decreased by 45,194 over the April 1, 2020-to-July 1, 2021 period, from 7,029,917 at the Census count to 6,984,723 as of July 1, 2021. This 0.6% cumulative decrease is more substantial than most of other Northeast states except New York, which decreased by 1.8%. Overall, the region decreased by 0.8%.
Even with 2020 to 2021 decrease, Massachusetts maintains its rank as the 15th most populous state in the U.S., having grown faster than any other state in the Northeast cumulatively since the Census count in 2010. At the national level, Massachusetts ranked 45th for both cumulative percent population change since the April 1, 2020 count and single-year percentage change since July 1, 2020.
For more information about the Vintage 2021 state-level population estimates, download the full UMDI report below.