Massachusetts Population Estimates by City and Town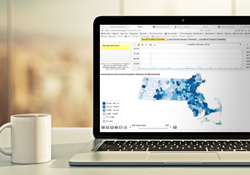 On May 26, 2022, the U.S. Census Bureau released updated population estimates for Massachusetts cities and towns (also called "minor civil divisions" or "MCDs") for July 1, 2021. This new vintage of estimates is derived from the allocation of the Census Bureau's 2021 county-level population estimates, released on March 24, 2022, to individual municipalities.
According to the U.S. Census Bureau's 2021 Sub-County Population Estimates, only 4 out of Massachusetts' 26 cities or towns with populations of 50,000 or more in 2020 increased in population from July 1, 2020 to July 1, 2021. Among all 351 individual cities and towns in Massachusetts, the U.S. Census Bureau estimates that 127 municipalities, or just 36%, increased in population between July 1, 2020 and July 1, 2021. This percentage is similar to the Vintage 2020 estimates released by the Bureau in May of 2020, when 139 municipalities, or 40% of all, were estimated as increasing.
The largest population gains from 2020 to 2021 were estimated in Medford (1,673), Wellesley (889), Plymouth (785), and Barnstable (664), representing a shift in population growth from the largest urban centers in the state, like Cambridge and Boston, into smaller cities and nearby towns located mostly in Middlesex, Plymouth, Worcester and Barnstable Counties.
The town of Berlin stands out as the municipality with the largest percent change with an estimated 12.0% increase in population. In contrast, the four cities which comprise Suffolk County – Revere, Chelsea, Winthrop, and Boston – demonstrated the largest percent decreases in the state at -4.0%, -3.8%, -3.4%, and -2.9%, respectively.
For more information about the Vintage 2021 city and town population estimates, access the interactive dashboard and full UMDI report below.