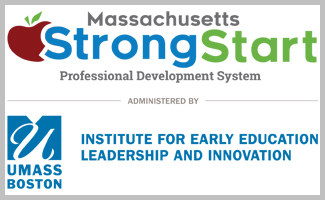 A program of the MA Department of Early Education and Care, the Massachusetts StrongStart Professional Development System provides professional learning, program development and quality improvement training for the state's licensed early care and education programs and educators.
StrongStart is administered by UMass Boston's Institute for Early Education Leadership and Innovation. Training and technical assistance services are delivered through five regional professional development centers (PDCs). Professional development services to be provided will address a broad range of needs and issues, including: leadership coaching; health and safety; inclusion; trauma-informed care; behavioral health; program quality improvement; business and management; and instructional practices.
Through our partnership with UMass Boston, numerous UMass Donahue Institute business groups and staff will be contributing their expertise and services to StrongStart. Mary Watson Avery, a director in our multifaceted Early Childhood Training and Technical Services area, will oversee the Central Massachusetts Professional Development Center. Additional PDCs will be located in the West, Northeast, Southeast and Metro Boston regions of the state.
Our Applied Research & Program Evaluation group, under the leadership of Director Jennifer Gordon, will be responsible for data management, reporting and evaluation activities to support the system.
Additional startup support was provided by Sharon Vardatira, the UMass Donahue Institute's director of business development.