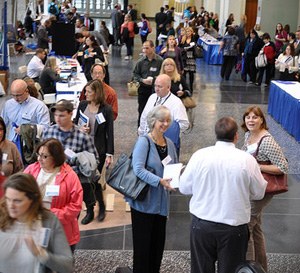 In 2004, following the US Department of Education's National Summits on Mathematics and Science, Massachusetts launched the nation's first statewide STEM Summit. Since that time, leaders and practitioners from the Commonwealth's education, business, and government sectors, as well as students, parents and other community members gather annually at the Summit to share information, projects, and ideas.
The Massachusetts STEM Summit, held at the DCU Center in Worcester, annually attracts over 1,400 attendees, presenters, and exhibitors. Panel presentations and plenary sessions address the goals, plans, and progress of STEM education. Sessions cover the entire education spectrum, workforce development, economic development, and other key policy issues faced by the Commonwealth. The Summit's exhibit hall provides a dynamic environment with demonstrations of innovative curricula and programs as well as sponsor organizations' exhibits.
Organized collaboratively by the UMass Donahue Institute, the Massachusetts STEM Advisory Council, and the Massachusetts Business Roundtable this premiere event relies on generous contributions from dozens of public and private organizations invested in the state's economic vitality and in the benefits of a strong STEM education and workforce development talent pipeline. Their sponsorship is critical to the continued success of the Summit.
Learn more about 2021's virtual event.
Learn more about the Massachusetts STEM Summit, where you can also join a mailing list to receive news about the next Summit.