Newly Released Data Confirm 2011 a Solid Job Growth Year for the Bay State
MassBenchmarks: Expect another round of significant revisions to the official data next March
July 2012
New Massachusetts payroll employment data (ES-202) for the fourth quarter of 2011 were released on June 28th, providing the first available Unemployment Insurance (UI) based job counts for October-December 2011. These estimates provide the first preview of what the official revisions for 2011 will be when they are released in early March 2013, after the BLS performs its annual benchmark revisions.
MassBenchmarks now estimates that the number of payroll jobs (on a seasonally adjusted basis) in Massachusetts in December 2011 was 3,241,800, or 30,000 more than the official (CES-790) payroll job count of 3,211,800 estimated by BLS (Figure 1). MassBenchmarks estimates that job growth in 2011 — from December 2010 to December 2011 — was 39,100 or 1.2 percent (Figure 2), significantly faster than the 9,100 jobs and 0.3 percent rate of growth reported by BLS.
Figure 1. MassBenchmarks versus Offical Estimates of Total Employment in Massachusetts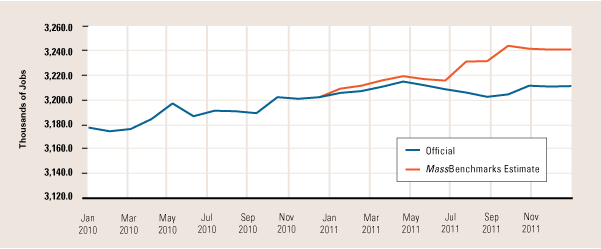 These ES-202 data effectively represent a census of Massachusetts employers who are participants in the state's UI system and are much more reliable than previous estimates. While these newly released data will not be incorporated into the "official estimates" by the US Bureau of Labor Statistics (BLS) until next March, as it did earlier this year, MassBenchmarks has utilized a simplified version of BLS's re-benchmarking process to estimate what the revised CES-790 job counts would be for October-December 2011 if the BLS were to incorporate this new information today.
The largest differences in employment were in Educational Services, which now appears to have added 9,000 more jobs, and Construction, which added an estimated 7,000 more jobs in 2011 than officially reported. The largest downward revision was in Manufacturing (4,500 jobs).
Figure 2. MassBenchmarks Revisions to Job Growth, by Industry Sector in 2011 (December 2010 to December 2011)
Sector
MassBenchmarks Minus Official Estimates
(Dec 2011)

MassBenchmarks Estimated
Annual Change
(Dec 2010 - Dec 2011)

Annual Percent Change
Natural Resources and Mining
100
100
9.5%
Construction
7,000
5,000
4.6%
Manufacturing
-4,500
-2,200
-0.9%
Wholesale Trade
-800
100
0.0%
Retail Trade
-1,800
3,200
1.0%
Transportation, Warehousing, and Utilities
-600
0
0.0%
Information
1,900
-100
-0.1%
Finance and Insurance
1,200
-600
-0.3%
Real Estate and Leasing
700
600
1.6%
Professional and Technical Services
3,400
10,000
4.0%
Management of Companies and Enterprises
0
1,300
2.1%
Administrative and Waste Services
900
2,900
1.8%
Educational Services
9,000
2,800
1.7%
Health Care and Social Assistance
2,900
9,400
1.9%
Arts, Entertainment, and Recreation
5,000
100
0.2%
Accommodation and Food Services
3,400
6,100
2.3%
Other Services
-1,600
2,600
2.2%
Federal Government
-900
-800
-1.6%
State Government
1,100
-1,000
-0.8%
Local Government
3,500
-500
-0.2%
Total Nonagricultural Payroll Employment
30,000
39,100
1.2%
Source: MassBenchmarks estimates based on the June 28 release of the QCEW (ES-202) by the U.S. Bureau of Labor Statistics
Notes: The revisions in employment represent the difference between MassBenchmarks estimates of payroll employment and the current official estimates. The sums may not equal the totals because of rounding. The standard error for the revision in total employment and the change in total employment is +/- 4,000 jobs.
Based on these revised payroll employment data, the sectors that had the fastest rate of job growth in 2011 (between December 2010 and December 2011) were Construction, with a job growth of 4.6 percent, and Professional and Technical Services, which experienced job growth of 4.0 percent.
"The rebound in Construction employment is welcome given how hard hit this sector has been in recent years," noted MassBenchmarks Senior Contributing Editor and Northeastern Professor Alan Clayton-Matthews, who prepared the new estimates. However, the sector has a long way to go before it recovers its pre-recession employment levels. "Construction employment in Massachusetts remains well below its level in December, 2007," Clayton-Matthews added.
The Management of Companies and Enterprises, Accommodation and Food Services, and Other Services industry sectors also experienced job growth of 2 percent or more in 2011. The number of jobs declined in 2011 in four sectors: Manufacturing, Information, Finance and Insurance, and Government (Federal, State, and Local employment all declined).
"Given the fluctuations in the BLS' sample based estimates for estimating historical employment growth in Massachusetts, and the need to have the best and most timely information possible to track the state's economy, MassBenchmarks will continue to monitor and evaluate official employment releases," said Martin Romitti, MassBenchmarks Managing Editor and Director of Economic and Public Policy Research at the UMass Donahue Institute.
Back