2023 volume 25 issue 1
April 2023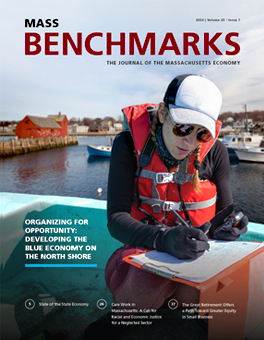 The Spring 2023 issue of MassBenchmarks investigates current conditions in the Massachusetts economy, including several potential challenges belied by apparent points of strength seen in the data. Feature articles highlight a new "blue economy" initiative on the North Shore, and an examination of equity and justice for care work employees. A third feature reviews findings from a recent survey of Massachusetts small businesses, including new opportunities to level the playing field for businesses owned by people of color.
THE CURRENT ISSUE'S HIGHLIGHTS
Notes from the Board
Branner Stewart
Massachusetts starts year with surprising signs of economic strength, but potential challenges on the horizon are concerning.
State of the State Economy
Robert Nakosteen & Mark Melnik
In recent months, the Massachusetts economy has comprised a puzzling mix of hesitation and promise—with the economic forecast depending heavily on the direction of inflation.
Organizing for Opportunity: Developing the Blue Economy on the North Shore
David Borges, Michael Goodman, & Katherine Kahl
The North Shore Blue Economy initiative met with hundreds of stakeholders to produce an assessment report on the region's competitive position in the Blue Economy, showing how the North Shore can build a sustainable and resilient economy around its ocean resources.
Care Work in Massachusetts: A Call for Racial and Economic Justice for a Neglected Sector
Anne Calef
Women of color, particularly Black and immigrant women, are dramatically overrepresented in low-wage care professions. Implementing policies that increase the value of care work would improve financial outcomes and stability for many of these workers and advance racial and economic justice in the Commonwealth.
Endnotes: The Great Retirement Offers a Path Toward Greater Equity in Small Business
Olivia Wine
A recent survey of Massachusetts small businesses highlights racial and gender inequities around responses to the COVID-19 pandemic—as well as opportunities for women, Black, and Latino entrepreneurs to level the playing field.
Back