2022 volume 24 issue 1
April 2022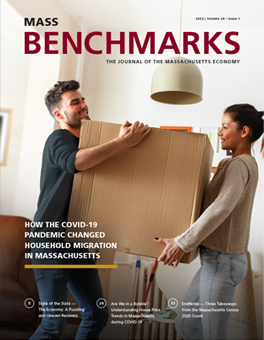 The Spring 2022 issue of MassBenchmarks investigates current conditions in the Massachusetts economy, including the status of economic recovery from pandemic lows. Feature articles in this issue examine the effects of the pandemic on migration patterns in New England, and on house price trends in Massachusetts. A third feature discusses major findings from the Massachusetts Census 2020 population count.
THE CURRENT ISSUE'S HIGHLIGHTS
Notes from the Board
Alan Clayton-Matthews
The U.S. and Massachusetts economies continue to recover from the COVID-19 recession; however, recent economic conditions reflect multiple, serious uncertainties.
State of the State — The Economy: A Puzzling and Uneven Recovery
Robert Nakosteen & Mark Melnik
Recent positive trends in state GDP and employment show the state is continuing to rebound after the pandemic recession; however, challenges remain for the immediate future for the economy both locally and nationally.
How the COVID-19 Pandemic Changed Household Migration in Massachusetts
Nicholas Chiumenti
Change-of-address requests through the U.S.Postal Service from 2018 through 2020 tracked the effects of the pandemic on migration in New England, with the pandemic changing the types of moves made by households in the region and accelerating some preexisting trends.
Are We in a Bubble? Understanding House Price Trends in Massachusetts during COVID-19
Keren Horn & Charlotte Burlingame
While it does not seem to signal a housing bubble, the current spike in housing values across Massachusetts is concerning.
Endnotes — Three Takeaways from the Massachusetts Census 2020 Count
Susan Strate
This piece identifies a few standout themes in Massachusetts population growth over the last decade.

View the Journal on Issuu.
Back