2021 volume 23 issue 1
June 2021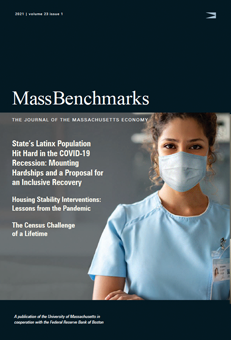 The Summer 2021 issue of MassBenchmarks investigates conditions within the Massachusetts economy, looking at economic issues during the COVID-19 pandemic and the beginning of economic recovery. Feature articles focus on public policy crises stemming from the pandemic: how an Earned Income Tax Credit could help the state's Latinx population and what policymakers can do to better address housing instability. A final piece explores the unique challenges of the 2020 Census in Massachusetts and the rest of the country.
Notes from the Board
Data show strong growth for Massachusetts, outpacing that of the U.S.
An Economy at Risk: This Time It's Different
Examination of state GDP and unemployment trends reveals disproportionate burdens by geography, demographics, and industry. Lawrence and New Bedford have suffered the highest unemployment rates. Face-to-face industries have followed suit while unemployment has been proportionately low in manufacturing, and professional, scientific, technical, and educational services.
Latinx Population Hit Hard in the COVID-19 Recession: Mounting Hardships and One Big Idea for an Inclusive Recovery
In unemployment, mental health, food and housing security, and education, the state's Latinx population has suffered disproportionately during the current COVID-19 crisis. A guaranteed income through expansion of the Earned Income Tax Credit would ease many of these shortcomings by extending coverage to low-income families in Massachusetts with no taxable income and to currently ineligible middle-class families.
Housing Stability Interventions: Lessons from the Pandemic
Lessons in housing from the current pandemic must inform public policy in future crises.
Endnotes: The Census Challenge of a Lifetime
The pandemic presented challenges for the 2020 Census in Massachusetts. The state's disproportionately large populations of immigrants and students contributed significantly to tracking and validation challenges.
Back