2018 volume 20 issue 2
December 2018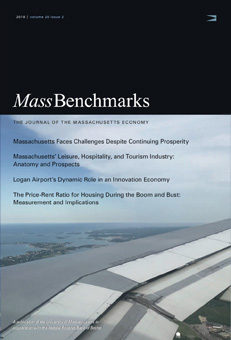 THE CURRENT ISSUE'S HIGHLIGHTS
Massachusetts Faces Challenges Despite Continuing Prosperity
In the third quarter of 2018, the state's gross domestic product growth kept pace with the nation's own strong GDP expansion. Massachusetts' unemployment rate in September was half a percentage point lower than in September of 2017. State policymakers, however, must come to terms with labor market threats posed by daunting house prices and commutes.
Massachusetts' Leisure, Hospitality, and Tourism Industry: Anatomy and Prospects
The Commonwealth's Leisure, Hospitality, and Tourism industry employs 376,000 workers and generates more than $28 billion. It spins off another 232,000 jobs and $41 billion of output in other industries. It offers, however, the lowest wages of any industry in the state.
Logan Airport's Dynamic Role in an Innovation Economy
The fastest growing component in Logan Airport's rise to national prominence is its international passenger service accounting for one third of the airport's growth. At the same time, international airfreight at Logan increased by 71 percent from 2010 to 2017. Those factors have helped Logan to catalyze Massachusetts' innovation economy and Boston's stature as a global city.
Endnotes: The Price-Rent Ratio for Housing During the Boom and Bust: Measurement and Implications
The price-rent ratio over fifteen years captures falling home ownership rates leading to higher demand and prices for rentals.
Back