2018 volume 20 issue 1
June 2018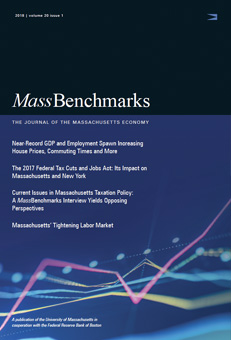 The Spring 2018 issue of MassBenchmarks examines the current state of the Massachusetts economy and features a discussion on the impacts of federal tax cuts on Massachusetts taxpayers, a deeper dive into issues surrounding the state's own tax policies, and an analysis of the tightening labor market.
THE CURRENT ISSUE'S HIGHLIGHTS
Near-Record GDP and Employment Spawn Increasing House Prices, Commuting Times and More
Current economic data for Massachusetts point to strong growth, both for gross domestic product and employment. At the same time, unemployment is at a near historic low. The downside to the state's strong performance includes higher housing costs, greater congestion, longer commuting times, and increased income inequality. Those challenges are pronounced in Boston and Metro Boston.
The 2017 Federal Tax Cuts and Jobs Act: Its Impact on Massachusetts and New York
The Tax Cuts and Jobs Act, with its $10K cap on deductibility, will challenge the established tax structures of moderate-tax states like Massachusetts and high-tax states like New York. The latter will lose competitiveness nationally and Massachusetts will face tax-driven competition from its neighbors, notably New Hampshire. Ultimately, the Act will diminish national competitiveness by weakening the nation's most productive centers, including Boston and New York City.
Current Issues in Massachusetts Taxation Policy: An Interview with Noah Berger of the Massachusetts Budget and Policy Center and Eileen McAnneny of the Massachusetts Taxpayers Association
A MassBenchmarks interview explores current tax policy issues, including current trends in the flow of revenues and increasing costs associated with healthcare, pension, and debt service spending. It also examines the viability of a proposed income surtax on high-income earners, and calls for greater efficiency in state government through greater transparency in the evaluation of spending priorities and trade-offs.
Endnotes: Massachusetts' Tightening Labor Market
Research presentations by Drs. Mary Burke and Alicia Modestino at MassBenchmarks' April Editorial Board meeting shed light on Massachusetts' lethargic population growth's impact on the state's labor force. Burke found that stronger than expected labor force participation by prime age and older workers helped moderate declining population growth. Modestino confirmed that tighter labor markets lead to less stringent educational and experience requirements.
Back