2017 volume 19 issue 2
December 2017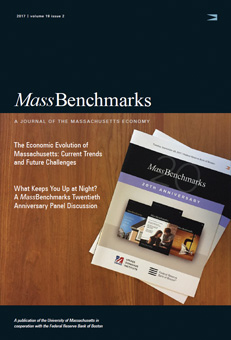 The Fall issue of MassBenchmarks celebrates 20 years of the journal and service to the Massachusetts economy. A feature article identifies major economic trends and challenges emerging over twenty years. A second feature covers a panel discussion by editorial board members exploring critical policy issues impacting the state economy.
THE CURRENT ISSUE'S HIGHLIGHTS
The Economic Evolution of Massachusetts: Current Trends and Future Challenges
While Massachusetts continues to thrive with its dynamic mix of high-technology, education-intensive industries, it must come to terms with significant challenges. These include a slackening labor supply and disparities in a geographically imbalanced economy dominated by Greater Boston's world-class competitiveness.
What Keeps You Up at Night?:
A MassBenchmarks Twentieth Anniversary Panel Discussion
In a wide-ranging panel discussion, members of MassBenchmarks' editorial board explored diverse policy issues, including strategic investments in middle- and low-skill education and training and the influence of prospective federal taxation and immigration policies on the state's economy. Panelists also explored growing labor market scarcities and striking economic disparities among the state's citizenry.
The MassBenchmarks Editorial Board
Representing academe, industry, and the Federal Reserve Bank of Boston, MassBenchmarks' nineteen editorial board members bring diverse policy perspectives to the table. Through their ongoing research and information sharing—including periodic roundtable discussions—they ensure that MassBenchmarks covers all the bases in its timely dissection of the Bay State's economy.
Back