The performance of the Massachusetts economy remains solid
The rising tide is raising more boats, but global risks and infrastructure constraints are weighing on the economic outlook, declares MassBenchmarks Editorial Board.
October 2019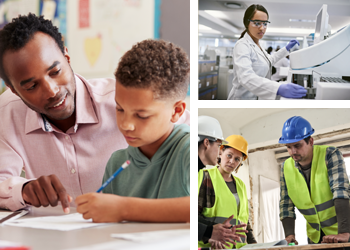 As has been the case for several quarters, recent trends in the Massachusetts economy look similar to those for the nation. Overall, the economy is doing well, but there are continuing signs of a slowdown. Unemployment is low (2.9% in MA and 3.5% in the U.S.), but employment and output growth are decelerating. Growth in the global economy is slowing and labor supply constraints, softening demand, and rising international geopolitical uncertainty, all signal concerns for the economy going forward.
At its most recent meeting, the members of the MassBenchmarks editorial board began by discussing current economic conditions, the factors that may be underlying the apparent slowing of economic growth, and the ways in which Massachusetts stands out from the U.S. Much of this discussion considered the degree to which the economic slowdown is the result of labor supply constraints, decreased demand, capacity bottlenecks, or some combination of these and other factors. With historically low unemployment rates, both nationally and in Massachusetts, there was broad consensus that labor supply is playing a role in tempering economic growth.
The Commonwealth's labor reserves of unemployed and underemployed workers are dwindling and the pace of job growth in some sectors, such as Other Business Services (e.g. employment services and services to buildings and dwellings) and Construction, is slowing significantly. Notably, strong employment growth can still be found in Education and Health Services (especially Health Care) and Professional, Scientific, and Technical Services, areas where we might expect that skill shortages would curtail growth.
Board members also focused a great deal of their attention on a number of broader sources of uncertainty in the current economic and geopolitical environment and what they could mean for the Massachusetts economy. The current environment is characterized by, as one Board member aptly put it, "considerable internal and external disharmony". Among other things, this "disharmony" includes ongoing trade conflicts, continued tension around Brexit, the apparent impacts of climate change, particularly as it relates to agricultural production in various places around the world, and increasing instability in global markets among advanced economies.

In this context the rising tension surrounding the ongoing impeachment inquiry focused on President Trump represents yet another "wild card" and adds another significant element of uncertainty to an already volatile environment. While any single one of these "wild cards" might not have much influence over our economic outlook, together they can be expected to exert downward pressure on business investment and consumer confidence over time.
Despite the recent slowdown and the uncertainties on the horizon, the performance of the Massachusetts economy remains solid. Tight labor markets are helping to extend the benefits of the economic expansion more widely as can be seen in declining unemployment rates for young adults, people of color, and individuals with limited educational attainment and marketable skills. These developments, along with some emerging and encouraging evidence of meaningful wage growth, suggest the rising tide is raising more boats.
State tax revenue growth remains strong, and with a reported $1.1 billion surplus at the end of fiscal year 2019 and a record high balance in the state's "rainy day" fund ($2.8 billion), the Commonwealth is in a solid fiscal position. It does appear that the 2017 changes to federal tax law changes are responsible for much of the unusually strong growth in state tax revenues, suggesting the current pace of revenue growth may be short-lived. Upside surprises occurred in business tax revenues and in non-withholding personal income tax revenues. The timing of these two revenue sources is often affected by changes in tax law. In this case, payers had some discretion in shifting liabilities from the pre-Tax Cut and Jobs Act of 2017 regime to after it became law, resulting in a bump in revenues in FY 2018 and FY 2019 that is not likely to continue this fiscal year.
In light of its high employment, strong tax base, indications of rising wages, and the prudent level of reserves required to offset a future downturn, the Board turned its attention to the immediate need for the Commonwealth to address its infrastructure crisis aggressively. This need is especially urgent as the constraints on economic growth that result from inadequate infrastructure become increasingly apparent. These constraints are experienced daily by workers and businesses across the Commonwealth and take the form of longer commutes, costly delays, and large portions of the state that remain ill equipped to compete in the contemporary economy.
Current economic conditions and growing tax revenues provide an opportunity to make major and much needed investments in public transportation, roads and bridges, and education. While recent increases in planned capital spending on transportation infrastructure represent an important step in the right direction, the scale of the Commonwealth's accumulated infrastructure deficits make it clear there is much more work to be done.
This summary reflects the discussion of the members of the Editorial Board of MassBenchmarks at its meeting on September 20, 2019. It was prepared by Senior Managing Editor Dr. Mark Melnik and was reviewed and edited by the members of the Editorial Board. While discussion among the Board members was spirited and individual Board members hold a wide variety of views on current economic conditions, this summary reflects the consensus view of the Board regarding the current state of the Massachusetts economy.
Back