State economy slows to a crawl in Q1, UMass journal reports
May 2023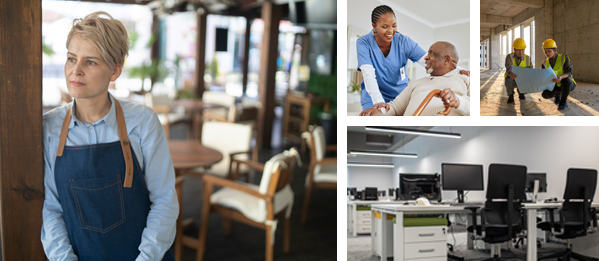 » Download the detailed report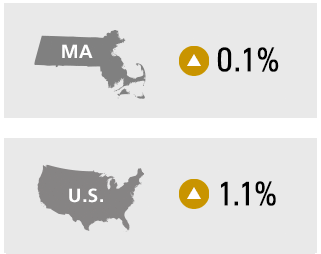 In the first quarter of 2023, Massachusetts real gross domestic product (GDP) increased at a 0.1 percent annualized rate, according to MassBenchmarks, while U.S. GDP increased at a 1.1 percent rate according to the U.S. Bureau of Economic Analysis (BEA). In the fourth quarter of 2022, Massachusetts GDP grew at a 2.9 percent annualized rate as compared to a 2.6 percent rate for the U.S., according to the BEA.
Nationally, consumer spending kept U.S. GDP growth positive in the first quarter, but the bulk of that spending took place in January, as real consumer spending declined in both February and March. Spending was much weaker in the Commonwealth during the first three months of the year. In Massachusetts, nominal spending on goods subject to the state regular sales tax and motor vehicle sales tax declined at a seasonally adjusted 5.8 percent annual rate in the first quarter, with growth in spending on motor vehicles more than offset by declines in spending on other goods.
Despite these signs of weakness, payroll employment remained strong in the first quarter, expanding at an annualized rate of 3.0 percent in Massachusetts and 2.7 percent nationally. Unemployment rates remain low, and stood at 3.5 percent in March both for Massachusetts and the U.S. Recent employment growth, however, has been uneven. In the first quarter, state job growth was very strong in construction, education and health services, and leisure and hospitality, yet employment in information services declined by nearly one percent from December.
In Massachusetts, employment in the professional, scientific, and technical services sector was essentially unchanged in the first three months of the year. The flat overall performance in the professional, scientific, and technical services sector embedded mixed results, as strong job gains in scientific research and development, engineering, and consulting were offset by lackluster growth in accounting and legal services and a sharp decline in computer systems jobs. The latter jobs have declined for six straight months, and as of March 2023 the number of computer systems jobs in the state was five percent below its September 2022 level.
Wage and salary income, seasonally adjusted and estimated from state withholding taxes, declined at a 7.3 percent annual rate in the first quarter, as compared to a 6.4 percent rate of growth for the U.S. In the fourth quarter of last year, wage and salary income grew at 7.0 percent rate in the state and a 6.8 percent rate nationwide according to the BEA.
"Part of the decline in Massachusetts in the first quarter may be related to the volatility and timing of withholding tax receipts," noted Alan Clayton-Matthews, Senior Contributing Editor and Professor Emeritus of Economics and Public Policy at Northeastern University, who compiles and analyzes the Current and Leading Indexes for MassBenchmarks. "Both the finance and high technology sectors are important sources of bonus income for workers in those industries, and the declining stock market last year and cost-cutting in the technology sector may help to explain a significant portion of the decline in wage and salary income observed at the state level in the first quarter," Clayton-Matthews added.
Changes in the mix of new jobs, with faster growth in lower-paying sectors and tech-related layoffs in higher-paying sectors may have also contributed to falling wage and salary income in the first quarter.
Consumer price inflation has been stubbornly resistant so far to the Federal Reserve's interest rate hikes. Although the overall price index has been falling slowly in both Boston and the U.S. (city average), the core rate – which excludes food and energy – has remained well above the Fed's target of 2 percent. In Boston the core consumer price inflation rate in the first quarter was 4.7 percent, as compared to 5.0 percent nationally. In the first quarter of 2022 these rates were 4.3 percent for Boston and 5.6 percent for the U.S. respectively. The Federal Open Market Committee on May 3 raised the federal funds rate target another 25 basis points, but signaled that rates might be held steady for a time moving forward in light of the expected drag on economic activity stemming from bank stress and other downside risks. Stubborn inflation combined with a slowing economy and tightening credit conditions are making the Fed's task of achieving a soft landing difficult, and Fed policymakers acknowledged the risk of a mild recession later in 2023.
The national outlook for the next two quarters is for economic growth to continue slowing, with a possible mild recession beginning later this year. The average outlook of economists surveyed by the Wall Street Journal in early April is for U.S. GDP growth to slow to 0.1 percent in the second quarter and for growth to decline by 0.3 percent in the third quarter, at annual rates.
The components of the MassBenchmarks Leading Economic Index for Massachusetts are suggesting a continuation of slower than U.S. growth, with a projected decline of 0.1 percent in the second quarter and 0.6 percent in the third quarter. Most of the state's leading indicators are negative, including withholding and sales taxes, the Bloomberg stock index, and initial unemployment claims. Two national indicators, consumer confidence, and the inverted yield curve (10-year vs. 3-month rates for Treasury securities) are also pointing in a negative direction.
Back