Resilient economy refuses to slow yet, UMass Journal reports
But peak labor market and restrictive monetary policy portend slower growth ahead
July 2023

» Download the detailed report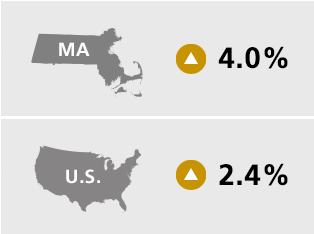 In the second quarter of 2023, real gross domestic product (GDP) in Massachusetts increased at a 4.0 percent annualized rate according to MassBenchmarks, while U.S. GDP increased at a 2.4 percent annualized rate, according to the U.S. Bureau of Economic Analysis (BEA). In the first quarter of 2023, Massachusetts GDP grew at a 2.5 percent annualized rate as compared to 2.0 percent for the U.S., according to the BEA.
During the second quarter, both the state and national economy performed better than expected, with surprising resilience in the labor market as employers continued to hire and labor force participation reached pre-pandemic levels for so-called "prime aged" workers 25-54 years old. It's unlikely this pace of growth can continue during the third and fourth quarters. There is little slack left in the labor market to support strong employment growth, consumer spending in real terms seems to be leveling off as households exhaust excess savings from the COVID fiscal stimulus, and the Federal Reserve raised interest rates in their July rate-setting meeting with a possibility of a further rate increase later this year.
Although a recession is not anticipated in the second half of this year, all indications are that growth can be expected to slow. The Massachusetts and U.S. economies have been growing in sync with each other, with slightly higher growth in Massachusetts in the first half of this year reflected in marginally higher payroll employment growth and higher wage and salary income growth. In the second quarter, Massachusetts payroll employment grew at a 2.2 percent annualized rate versus 1.9 percent for the U.S. In the first quarter, state and national employment grew 2.9 percent and 2.5 percent respectively.
Wage and salary growth was also stronger in Massachusetts than nationally during Q2. MassBenchmarks estimates wage and salary income in the most recently completed quarter using state withholding tax revenues. June state tax revenues have not been released yet, but strong withholding tax revenues in April and May indicate that second quarter wage and salary income growth for Massachusetts was greater than the MassBenchmarks estimate for (annualized) U.S. wage and salary growth of 4.8 percent. For the first quarter of this year, the BEA reported a 5.8 percent growth rate in Massachusetts wage and salary income versus 4.7 percent for the U.S. Since the second quarter of 2022, wage and salary income is estimated to have grown 6.2 percent in Massachusetts versus 5.6 percent for the U.S.
The tightness of the labor market is reflected in the unemployment rate, which in June was at historically low levels. The June unemployment rate for Massachusetts was 2.6 percent, just under the historic low of 2.7 percent recorded at the end of the tech boom in the summer and fall of 2000 and the lowest since these data were first collected in 1969. The U.S. unemployment rate, which was 3.6 percent in June, reached its nadir in January of 3.4 percent, the lowest level since the end of the 1960s.
The strength of the labor market is also reflected in the broader U-6 measure of unemployment, which includes part-time workers who would prefer a full-time position and other marginally attached workers. This measure is at pre-pandemic levels, which were the lowest since the end of the tech boom in 2000. Both the number of persons who worked part-time but wanted full-time work, and the number of marginally attached workers are trending lower than pre-pandemic levels.
Not surprisingly, the strong labor market has not been helping efforts to reduce inflation which, although moderating slightly, remains stubbornly above the Fed's target of 2.0 percent. In the Boston area, core CPI in the second quarter was up 4.3 percent from the first quarter on an annualized basis. The corresponding measure for the U.S. was 4.7 percent. While core inflation in the Boston area has been lower than that of the U.S. in recent quarters, Boston's inflation rate has nonetheless not declined meaningfully since the second quarter of 2022.
Massachusetts consumer and business spending on items subject to the regular and motor vehicle sales taxes, which reflect spending on goods—largely durable goods—declined in the first and second quarters of this year, at an annualized rate of 5.8 percent in the first quarter and 2.5 percent in the second quarter. Sales tax collections in Q2 2023 were 1.8 percent higher than in Q2 2022. Notably, these are nominal measures and are not adjusted for inflation. They are significantly weaker than measures of U.S. nominal spending on goods and durable goods. Spending on durable goods in the U.S. in the first quarter grew 15.2 percent on an annualized nominal basis and was 3.4 percent higher than the first quarter of 2022 (Q2 data are not available yet).
The outlook for the second half of this year calls for slower growth in both Massachusetts and the U.S. The MassBenchmarks Leading Economic Index expects third quarter growth of 0.7 percent for Massachusetts, while the Wall Street Survey of economists in July projects growth of 0.6 percent for the U.S. The pace of job growth can be expected to slow as well, and there are some indications that employer demand for workers may be softening. Payroll employment in June in Massachusetts declined moderately—by 4,500—which could reflect the difficulty employers are having finding workers, or that demand for workers has peaked.
» Download the detailed report

Back