State economy ends the year on a strong note, UMass journal reports
Outlook is for slower growth overall with serious headwinds for housing and tech sectors
January 2023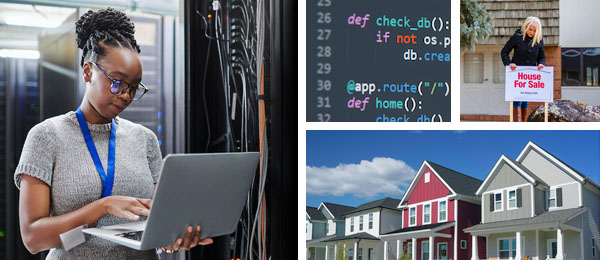 » Download the detailed report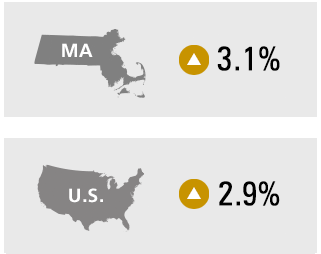 In the fourth quarter of 2022, Massachusetts real gross domestic product (GDP) increased at a 3.1 percent annualized rate, according to the MassBenchmarks Current Economic Index, while U.S. GDP increased at a 2.9 percent annualized rate according to the U.S. Bureau of Economic Analysis (BEA). In the third quarter of 2022, the BEA estimates that both Massachusetts and the U.S. increased at an annual rate of 3.2 percent. In the first and second quarters of 2022, the BEA's estimates for both state and national growth were negative: for Massachusetts, -0.9 percent in the first quarter and -2.6 percent in the second quarter; for the U.S., -1.6 percent in the first quarter and -0.6 percent in the second quarter. For the year, fourth quarter 2021 to fourth quarter 2022, GDP growth was 0.7 percent for Massachusetts and 1.0 percent for the U.S.
 In the second half of 2022 both the state and national economies exhibited signs of a healthy and expanding economy including a strong labor market, low unemployment, and a declining but still elevated rate of inflation. Nonetheless, leading indicators suggest that economic growth is likely to decelerate or become negative moving forward.
Massachusetts payroll employment grew at an annual rate of 4.2 percent in the fourth quarter, twice the rate of the U.S. (2.1 percent). This followed employment growth of 2.5 percent for Massachusetts and 3.1 percent for the U.S. in the third quarter. From the fourth quarter of 2021 to the fourth quarter of 2022, payroll employment grew 3.9 percent in Massachusetts and 3.3 percent nationally. Unemployment continued to fall in 2022 and stood at 3.3 percent in December for the Commonwealth and 3.5 percent for the nation. In December of 2021, the unemployment rate was 4.6 percent for Massachusetts and 3.9 percent for the U.S. Despite these favorable developments, the labor force participation rate in Massachusetts declined 0.7 percentage points from June 2022 to December 2022.
In Massachusetts, the Consumer Price Index (CPI) grew at a 4.8 percent annualized rate in the fourth quarter, falling from a 6.0 percent annualized rate in the third quarter. Nationally, inflation grew at a 3.1 percent rate in the fourth quarter, down from 5.7 percent in the third quarter. Year over year (Q4 2021 to Q4 2022),  prices rose 7.0 in Massachusetts and 7.1 percent nationwide.
Massachusetts tax revenues in the fourth quarter provide conflicting signals. Wage and salary income, as estimated from state withholding tax revenue, declined at a 1.3 percent annual rate, while spending on items subject to the state's sales tax – which includes most goods and motor vehicles – grew at a 22.1 percent annual rate.  
"In the case of wage and salary income, the modest decline may reflect a weaker than usual bonus season, as stock and bond prices fell during the last year," noted Alan Clayton-Matthews, Senior Contributing Editor and Professor Emeritus of Economics and Public Policy at Northeastern University, who compiles and analyzes the Current and Leading Indexes for MassBenchmarks. "Massachusetts wage and salary income is more sensitive to swings in bonuses than the nation due to its concentration in the financial investment sector. Timing of the receipt of withholding tax revenues can also affect quarter to quarter estimates of this income component," Clayton-Matthews added.
The very strong fourth quarter state consumer spending result may reflect timing of purchases or receipt of tax revenues. This spending declined at a 4.3 percent rate in the third quarter, making the average annual growth about 9.0 percent if the third and fourth quarters are combined. Over the course of 2022, spending on these taxable items grew 8.3 percent (Q4 2021 to Q4 2022).
Despite these signs of strength, there is a widespread expectation among analysts and forecasters that growth will slow further in 2023 in response to higher interest rates as the Federal Reserve Bank tries to engineer a soft landing.  Interest rate sensitive sectors like housing, and firms that rely on low borrowing costs, such as high-tech businesses, are already beginning to feel the effects of these policies, as can be seen in lower home sales, declining home prices, and reports of layoffs at many of the nation's leading technology companies.  
Household excess savings boosted by the large federal stimulus in response to COVID-19 are largely depleted, resulting in a recent softening in consumer spending. The rate of job openings, although still high, has been falling for several months both in Massachusetts and nationally. In April, Massachusetts initial unemployment claims were at an historically low level of under 18,000, have been trending upward, doubling to about 36,000 by December. That is not an alarming level, but it is consistent with a weakening job market.  Nationally, unemployment duration is lengthening, another indicator of softening labor market conditions. In Massachusetts, recent declines in the labor force participation rate could create significant headwinds for employment growth moving forward.
The MassBenchmarks Leading Economic Index is projecting annualized GDP growth of 1.4 percent in the first quarter of this year, slowing to 0.6 percent in the second quarter. The mean projection for U.S. GDP by the January survey of economists by the Wall Street Journal is for only a 0.1 percent annualized rate of growth in the first quarter, and a 0.4 percent decline in the second quarter, with a 61 percent probability of a recession this year.
Back