State economy slows sharply in Q1, UMass journal reports
Rising inflation, labor supply concerns & rising uncertainty weigh heavily on economic outlook
April 2022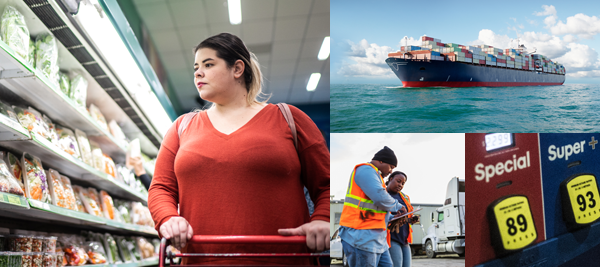 » Download the detailed report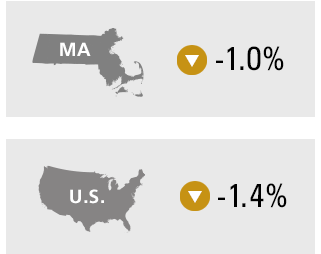 In the first quarter of 2022 Massachusetts real gross domestic product (GDP) decreased at a 1.0 percent annualized rate, according to MassBenchmarks, while U.S. GDP decreased at a 1.4 percent rate according to the U.S. Bureau of Economic Analysis (BEA). In the fourth quarter of last year, according to the BEA, Massachusetts GDP grew at an annual rate of 7.8 percent while U.S. GDP grew at a 6.9 percent rate.
The sharp slowdown in growth in the first quarter reflects the impact of the Omicron variant of COVID-19, continued supply chain woes, the eroding effect of inflation on purchasing power, and weakening consumer and investor confidence. As the growth-dampening effect of Omicron waned in late winter and early spring, the outbreak of war in Ukraine gave an added boost to inflation, particularly for energy and food prices. At the same time, the labor market continued to exhibit strong gains in employment and wage growth, declining unemployment, and record low levels of unemployment claims. Wage and salary growth per worker, however, continued to lag inflation, reducing aggregate spending power and in turn slowing inflation-controlled, or "real," economic activity.
Massachusetts payroll employment in the first quarter grew at an annual rate of 5.2 percent, slightly faster than the 4.8 percent pace for the U.S. This compares with job growth of 4.2 percent in Massachusetts and 4.9 percent for the U.S. in the fourth quarter of last year. Between Q1 2021 and Q1 2022 employment increased by 5.3 percent in Massachusetts and 4.6 percent in the U.S. However, in March 2022, the state remained 2.4 percent below pre-pandemic payroll employment levels, which peaked in February 2020. The equivalent "jobs gap" nationally as of March 2022 was smaller, at just 1.0 percent.
The unemployment rate in Massachusetts fell to 4.3 percent in March, down from 4.6 percent in December. During the same period, the U.S. unemployment rate fell from 3.9 percent in December to 3.6 percent in March. In March 2021, the unemployment rate for Massachusetts stood at 6.4 percent versus 6.0 percent for the U.S.
"There is little slack left in the labor market," noted Alan Clayton-Matthews, Senior Contributing Editor and Professor Emeritus of Economics and Public Policy at Northeastern University, who compiles and analyzes the Current and Leading Indexes for MassBenchmarks. The U.S. labor force participation rate in March, at 62.4 percent, was one percentage point below the pre-pandemic peak of February 2020. The Massachusetts labor force participation rate in March, at 66.0 percent, is a notch above that of February 2020 (65.9%). "Job openings continue to far exceed the number of unemployed, and historically low initial unemployment claims in both the state and the nation reflect the desire of employers to avoid shrinking staffing levels," Clayton-Matthews added.
The tight labor market has boosted wage and salary income. In the first quarter of 2022, MassBenchmarks estimates that aggregate wage and salary income in Massachusetts rose at a 12.6 percent annual rate, while wage and salary income for the U.S. rose at an 8.1 percent rate. These far exceed the growth in jobs, meaning that per-worker wages were rising briskly. In the fourth quarter of last year, the BEA estimates that wage and salary income grew at annual rates of 11.3 percent in Massachusetts and 10.9 percent in the U.S. Year over year (Q1 2021 to Q1 2022), MassBenchmarks estimates that wage and salary income increased 9.6 percent in Massachusetts and 11.1 percent in the U.S. Despite that strong growth, wage and salary income per worker was not keeping up with inflation but was falling in real terms, both nationally and in Massachusetts.
Inflation accelerated significantly in the first quarter, as measured by the Bureau of Labor Statistics' Consumer Price Index (the CPI-U, the Consumer Price Index for All Urban Consumers). In the Boston metropolitan area, inflation (at an annual rate) accelerated from 6.6 percent in the fourth quarter of last year to 10.8 percent in the first quarter. In the U.S. over the same period, inflation increased from 7.9 percent to 9.2 percent. Compared to the first quarter of last year, consumer prices have increased by 6.8 percent in Boston and 8.0 percent nationally.
The surge in overall inflation in part reflects the sharp increase in energy prices, but core prices that exclude food and energy also accelerated rapidly in the first quarter of 2022, with reported core inflation of 8.1 percent in the Boston metropolitan area and 6.5 percent nationally. Inflation erodes the real purchasing power of nominal income, which in turn can slow real consumer spending and therefore economic growth.
The outlook for the second and third quarters of 2022 calls for slow growth, but the level of uncertainty is high. Although the labor market is strong, consumer and investor confidence are weakening, as reflected in the Conference Board's consumer confidence index and declines in stock market indexes. The Federal Reserve has begun to raise interest rates in a bid to tamp down inflation while still avoiding a recession, a tricky process that has led to a growing pessimism in the forecasting community. A Wall Street Journal poll of leading economic prognosticators in April puts the probability of a recession in the next 12 months at 28 percent, up significantly from 18 percent in January.
Back