Sustainability practices shared at teen pregnancy prevention organization conference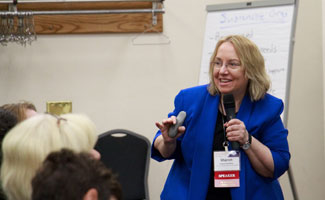 "We have assembled here the best and brightest in the field of teen pregnancy prevention," said Sharon Vardatira as she opened the conference titled, "Building a Bridge to the Future: Sustainability in Action" at UMass Amherst from June 14-15.
Teen pregnancy prevention organizations from across the country, all funded by the federal Office of Adolescent Health (OAH), gathered for two days to learn how to ensure longevity of local programs despite time-limited and uncertain federal funding.
Ms. Vardatira leads the UMass Donahue Institute's "Nonprofit Funding & Fiscal Solutions" (NFFS), which is the national provider of "Community Mobilization and Sustainability" capacity-building assistance for these federal grantees. The conference's aim was to teach the attendees how to leverage their local community resources and adopt creative strategies for sustaining their programs both during and after their federal contract has ended.
Highlights of the training included:
The Sustainability Lab: a peer learning space where teams work together on their plans, share plans with others, and receive feedback.
Eight workshops on various aspects of community mobilization, fund development, youth leadership in philanthropy, and organizing for collective impact.
Plenary on staying renewed, refreshed, and sustained as leaders.
Keynote address by Anne Teschner, Executive Director at The Care Center, Holyoke MA.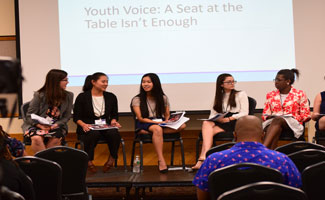 NFFS is one of five national providers who make up the OAH-funded LEAD Collaborative, a partnership of five organizations including the Adolescent Health Initiative at Michigan Medicine, Center for Strengthening Youth Prevention Paradigms at Children's Hospital Los Angeles, EngenderHealth, University of Massachusetts Donahue Institute, and Youth Catalytics. The goal of the LEAD Collaborative is to provide OAH Teen Pregnancy Prevention grantees with meaningful opportunities to learn and engage with their peers, accelerating their ability to design and deliver high-quality, youth-centered programs.
Go Back