Sec. William Galvin names Susan Strate to statewide 2020 census group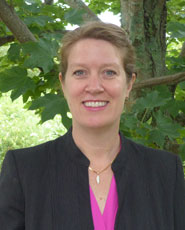 Populations Estimates Program Senior Program Manager Susan Strate has joined a statewide commitee tasked with ensuring an accurate census count in 2020.
William Galvin, the Massachusetts Secretary of the Commonwealth invited Ms. Strate to join the 2020 Statewide Complete Count Committee which he called "a diverse group of individuals from throughout the Commonwealth who possess comprehensive knowledge of their communities and an initiative to accomplish this very important endeavor."
"The 2020 Federal Census presents new challenges than in the past including the introduction of an on line census form. It is important that everyone understand these changes. An accurate population count is vital for Massachusetts," continued Galvin. The Federal Census has a direct and tangible impact on each city and town throughout the Commonwealth. An accurate population count is essential for Massachusetts so as to ensure that we retain our congressional seats and receive our much needed share of federal dollars."
"I am honored to have been invited by Secretary Galvin to participate on the Statewide Complete Count Committee effort," Strate said. "The 2020 Census presents a new set of challenges – from the potential new citizenship question to security concerns over internet response and data security in general. The stakes are high in Massachusetts, where one in seven people are foreign born and just about half of these naturalized."
"The statewide Complete Count Committee takes the next step in establishing and supporting initiatives that motivate people to respond to the Census."
Strate and her team just launched a Massachusetts-friendly web-based map application – the Massachusetts 2020 Census Planner Web App.
Ms. Strate oversess the Institute's Population Estimates Program which ensures that the population estimates and counts produced by the U.S. Census Bureau for Massachusetts geographies are as accurate as possible and inclusive of the most up-to-date information available in in Massachusetts. The program regularly releases population projections for Massachusetts geographies for use in both public and private planning initiatives and other development. Projections by age, sex, and municipality are available for download.
Go Back