Services provided by Head Start Training & Technical Assistance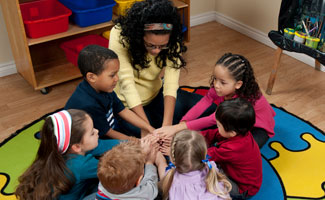 Our highly trained early childhood specialists provide assistance to Head Start and Early Head Start grantees in Connecticut, Maine, Massachusetts, New Hampshire, Rhode Island, and Vermont around issues of school readiness, family engagement, collaboration, and training and career development for staff.
We work with programs to:
Select and implement ongoing child assessment processes that are appropriate to the population(s) served
Develop procedures to analyze assessment and other critical data to inform teaching strategies, curriculum implementation, progress reports for parents, and staff development and training, as well as overall program improvement
Select and implement developmentally, culturally, and linguistically appropriate curricula based on the Head Start Child Development and Early Learning Framework and Head Start standards and regulations
Develop and implement effective mentoring and coaching strategies designed to improve teacher performance, classroom quality, outcomes for children, strategies to engage families in their children's education, and successful home-school partnerships
At the direction of the Office of Head Start, our Grantee Specialists provide specialized technical assistance to Head Start and Early Head Start programs that are experiencing program and management challenges in all six New England states. Grantee Specialists also work proactively with new grantees, programs with new directors or significant management changes, or programs with other concerns identified through regional data. Our Systems Specialist participates in regional teams to identify cross-system coordination opportunities between the federal Office of Child Care and the Office of Head Start. The System Specialists also link training and technical assistance resources to child care resource and referral networks and other organizations. The Health Specialist serves as a resource to other training and technical assistance specialists on comprehensive health services including mental health and environmental health and safety. The Health Specialist also provides training to grantees, regional office staff, and state partners.
We routinely collaborate with state early childhood agencies, state and regional Head Start associations, and the broader early childhood community in an effort to coordinate and maximize services in states.