U.S. Census Bureau Releases Sub-County-Level Population Estimates for July 1, 2015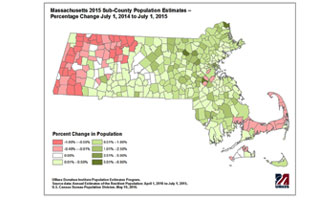 Today, the U.S. Census Bureau released July 1, 2015 estimates for cities and towns.
According to the Census estimates, most places in Massachusetts (79% of all cities and towns) grew in population from 2014 to 2015. Consistent with recent years, most of the fastest growing places were in the eastern part of the state - including a large proportion of towns in Middlesex County and other areas close to Boston – while most towns in Franklin, Berkshire, and Barnstable County lost population over the year.
Follow this link for more detailed information including maps showing population changes from 2014-2015 and 2010-15.
Go Back