UMass Amherst chancellor talks with international professor group about the state higher education
Nearly 20 professors from as many countries were close to ending their six-week summer stay in the United States when they met recently with UMass Amherst Chancellor Kumble Subbaswamy. The group was here as part of the US Department of State's "Study of the U.S. Institutes for Scholars on Political Thought" (SUSI) which was locally hosted by the University of Massachusetts Civic Initiative.
Chancellor Subbaswamy first discussed the state of higher education with the group. "In the last 20 years, we've felt that free secondary education is not enough," said Subbaswamy. "We need to provide the highest amount of access to at least two more post-secondary years." As a public institution, "we have to be accessible to everyone although we currently get only 25% of our funding through public funding with the other 75% coming through tuition, gifts, grants and merchandise sales."
Once on campus, said the chancellor, the biggest challenge he sees for students is living with fellow students from different backgrounds. Specifically, this is illustrated through racial tensions and anti-immigrant attitudes. "All colleges and universities try to use the conflicts occurring in the larger society as learning opportunities."
Despite the challenges faced by higher education institutions and those who wish to study in them, the chancellor said "we do our best open doors in this institution and let the students build their own futures."
The meeting ended with a series of questions from the international group including the effect of apparent liberal political leanings of college professors on their teaching, green energy efforts on campus, shared governance between administration, faculty and students and town/campus relations.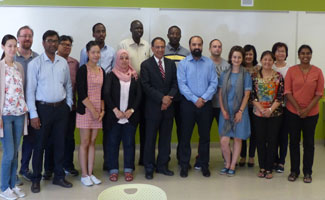 The UMass Civic Initiative, a business group of UMass Donahue Institute, has hosted SUSI groups every year since 2005. The 2016 group represented Bulgaria, Ukraine, Turkey, Algeria, Ghana, Rwanda, South Sudan, Argentina, Chile, Thailand, Malaysia, India, Pakistan, Philippines, Kyrgyzstan, Armenia, Indonesia, and Myanmar.
Go Back