Ten Tips: Transferring Classroom-based Training to a Virtual Learning Environment
How To Take Classroom Training Sessions Online In A Matter Of Days Instead Of Month
The COVID-19 pandemic is impacting all organizations, no matter their size and location. Organizations are now re-assessing their use of in-person meetings and events and considering virtual meet-ups. Many of our clients are coming to us with requests to provide virtual training sessions with little time for preparation and limited budgets. Here are Ten Tips for how to take your classroom training to an online format.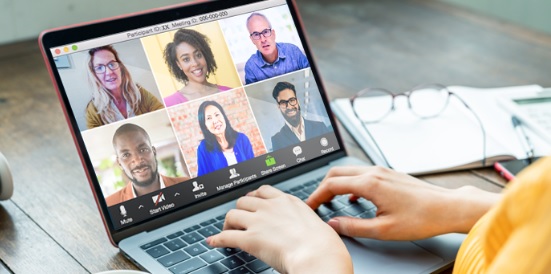 1. Don't Panic! We are seeing two versions of panic from our clients: To cancel all classes, or to replace full days of classroom training with full days of webinars. Both of these approaches lead to frustration and little learning.

2. Consider rescheduling: Instead of canceling your classroom training sessions, consider rescheduling for a later date. This could buy time until the Covid-19 crisis subsides. At the very least, this buys you time to consider the best approach on how to transfer your classroom training to a virtual learning format.
3. Utilize pre-work/readings: Review your training materials and decide what materials can be self-study. This helps limit the amount of content that you need to convey during webinars.
4. Limit webinars to no more than 90 minutes: The best practice guideline for webinars is to aim for 30-45 minutes and allow time for question-and-answer to follow if appropriate. If you follow Tip #5, you can increase the length to no more than 90 minutes. If you have more learning materials than will fit into a 90-minute webinar, consider other options to avoid webinar fatigue.
5. Make your webinars interactive: Long, dry lectures on a webinar platform does not lead to a good learning session. Utilize polling features, breakout discussions, incorporate chat, or use a whiteboard to illustrate a point to make the session interactive. Avoid webinars of greater than 50 participants. Many webinar platforms can have technical issues with very large groups, and large groups make interaction difficult.
6. Schedule a webinar series on the same date/time each week: When providing distance learning and during times of chaos, providing structure to our learners is very helpful. Scheduling a webinar series over different days also avoids the pressure to include several hours of content in each session. Research suggests that mid-week is best for scheduling webinars. Mondays and Fridays are the busiest days of the week for many people, and they may be unable to attend and more likely to be distracted.
7. Redesign classroom training into short, focused eLearning: Most eight-hour training sessions consist of less than six hours of content and activities. When a daylong training is converted for distance learning, the overall length can often be greatly reduced. By arranging the training in focused segments, or "chunks," you can achieve your training goals and allow people to take breaks, discuss, and think about the lessons between sessions and at their own pace.
8. Record your content in-house, using applications like Audacity: With a limited budget, professional narration may not be an option. However, with tools your instructors may already possess, you can create in-house narration rapidly. With a microphone, smartphone, or webcam, and free software like Audacity and FreeCam, you pre-record content for sharing with learners. You should script your content in advance, and you should allow for trial and error. Not all instructors are comfortable with or well-suited for recording, and you will quickly see why professional narration is such a valuable service.
9. Transfer all required tests online: Many of our clients are state agencies with classroom training that includes an end exam. Most LMS packages will have testing capabilities. Many will also allow for test banks of questions. This allows for exams to then have randomized questions. Even without an LMS, the creative use of other services can allow for online testing.
10. Whenever possible, combine webinars, pre-recorded content, and supplementary materials: A virtual learning program that has varied components will be the most engaging for your learners, allow for more reuse, and result in greater learning outcomes.
For more assistance, contact Dana Henry at dhenry@donahue.umassp.edu.
By Dana Henry, Director, ODLS and Dana Remian, e-Learning Specialist, ODLS
Go Back