Systematically measuring the prevalence and incidence of COVID-19 and antibodies in Massachusetts
UMass Donahue Institute and UMass Amherst Institute for Applied Life Sciences lead multi-UMass campus effort
The Massachusetts Department of Public Health has awarded $1.5 million to four University of Massachusetts institutes to conduct a statewide surveillance program aimed to improve understanding of the prevalence and incidence of COVID-19 in the Commonwealth.
To date, all known cases of COVID-19 stem from individuals opting to take a test, usually because they are either symptomatic, have been in contact with someone who has had a positive test, or need to take a test for some other reason (e.g. travel). This new study fills a gap in current surveillance efforts by randomly selecting participants to take a free test (with a small honorarium). This will allow researchers to better understand the level of outbreak in the community, including asymptomatic cases that typically would not be identified by symptomatic-only testing.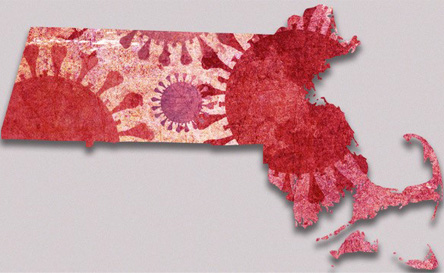 The University of Massachusetts Donahue Institute, the UMass Amherst Institute for Applied Life Sciences (IALS), the UMass Amherst Institute for Social Science Research (ISSR), and the Center for Public Opinion at UMass Lowell are collaborating to recruit, enroll, and survey a rolling sample of Massachusetts residents who will receive home-based specimen collection kits to facilitate population-based testing of SARS-CoV-2 (commonly known as COVID-19) infection and immune (antibody) response.
The Statewide SARS-CoV-2 Survey of Prevalence and Incidence in Massachusetts study aims to collect and analyze virus and antibody test result data for up to 550 Massachusetts residents per month. The surveillance project is anticipated to run for 14 months, with the option to extend over time. Results will be analyzed and shared monthly with the Massachusetts Department of Public Health for timely application to facilitate public health planning and policy response.
The University of Massachusetts Donahue Institute, the study's co-leader, will provide project-level management; assist with preparation of summary reports; and send out incentives to study participants. "We are extremely excited to help deliver this 'first of its kind' study attempting to measure the true levels of COVID outbreak and antibody response in the population," said Mark Melnik, PhD, director of the Economic & Public Policy Research group at UMass Donahue Institute. "Such data will help public health officials better understand the crisis and help strategize and deploy resources. We are proud for UMass to be providing a unique cross-campus collaboration aimed at helping the public health efforts in the Commonwealth."
The University of Massachusetts Amherst Institute for Applied Life Sciences, also a study co-leader, will conduct the SARS-CoV-2 viral and antibody testing, analyze the data for reporting, and securely communicate test results to participants. "The creation of the Clinical Laboratory Improvement Amendments (CLIA)-certified IALS Clinical Testing Center (ICTC) at UMass Amherst provides a capacity to perform high-throughput clinical testing in Western MA," said Peter Reinhart, PhD, Director, IALS and technical supervisor at ICTC. "This capacity is currently being used for COVID-19 testing of students, staff, and faculty on campus, as well as for all regional residents as a 'Stop-the-Spread' site. Its operation adds resilience to the state in the form of enhanced health surveillance, and innovation in the form of novel Clinical Assays developed by the campus in collaboration with state or industry partners."
"The actual number of COVID-19 infections are significantly underestimated, primarily due to test availability. At least 50% of people who tested positive from UMass Amherst were asymptomatic," said Erin Poulin, laboratory manager at UMass Amherst Health Services and general supervisor at ICTC.
Currently, the actual number of infections are underestimated because a significant fraction (30-50%) of COVID-19 infected patients remain largely asymptomatic and are not being identified by symptomatic-only testing. It has been estimated that 60% of viral transmission is due to asymptomatic transmission (Johansson et al., JAMA Netw Open. 2021;4(1):e2035057; Subramanian et l., PNAS March 2, 2021 118 (9) e2019716118). Despite a statewide effort, the capacity for testing and contact tracing has not been able to keep up with the rapid spread of the pandemic[1]. As a result, public health officials are challenged to know the full spread of the disease and the immune response in the general population.
The Center for Public Opinion at the University of Massachusetts Lowell will be responsible for administering a rolling demographic and recruitment survey that will serve as the testing population for the study. The UMass Amherst Institute for Social Science Research will provide survey, sampling, and statistical expertise to the project.
---
[1] [1]Siegler, Aaron J., Patrick S. Sullivan, Travis Sanchez, Ben Lopman, Mansour Fahimi, Charles Sailey, Martin Frankel, Richard Rothenberg, Colleen F. Kelley, and Heather Bradley. "Protocol for a National Probability Survey Using Home Specimen Collection Methods to Assess Prevalence and Incidence of SARS-CoV-2 Infection and Antibody Response." Annals of Epidemiology 49 (September 2020): 50–60. https://doi.org/10.1016/j.annepidem.2020.07.015.
Go Back