Susan Strate re-elected to U.S. census steering committee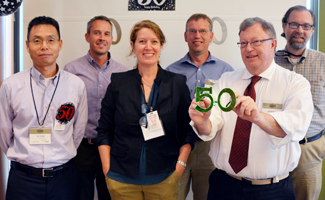 Susan Strate, Population Estimates Program Manager for the UMass Donahue Institute's Economic and Public Policy Research unit, was recently elected to her fourth term on the Federal-State Cooperative for Population Estimates (FSCPE) Steering Committee.
The FSCPE promotes cooperation between the states and the U.S. Census Bureau; prepares a set of consistent, jointly-prepared county and sub-county estimates with complete state coverage; assures the highest quality estimates through the use of established methods, comprehensive data review and thorough testing; reduces duplication in the production of population estimates and improves communication among the groups compiling population figures; improves and advances techniques and methodologies and encourages joint research efforts; and enhances the recognition of local demographic work.
As one of four FSCPE members elected by their national colleagues, Susan will serve a two-year term on the seven-person committee which represents seven states. She will continue to advocate for Massachusetts and other states on program guidelines and the methods that best incorporate states' local knowledge and expertise into official Census estimates and other review opportunities.
Go Back