Study shows UMass with $6.2 billion impact on MA, a "vital economic engine," UMass President Meehan says
For Immediate Release:
June 7, 2016

UMass generates record $6.2 billion in economic impact

President Meehan calls UMass "vital economic engine" for the Commonwealth

BOSTON – The University of Massachusetts was responsible for $6.2 billion in economic activity in Massachusetts last year – a record high – and helped to support more than 43,000 jobs statewide, President Marty Meehan announced today.
"UMass educates more students than any college or university in the Commonwealth and is one of the state's three largest research universities, but it also has a profound impact on the Massachusetts economy based on the scope and reach of its operations," President Meehan said.
"UMass is a vital economic engine for the Commonwealth," President Meehan added, "and its impact is felt in every community and by virtually every family across Massachusetts."
Victor Woolridge, chairman of the UMass Board of Trustees, said the report illustrates that "UMass truly is here for a reason, and that reason is to serve the entire Commonwealth. The importance of generating an economic impact on the scale that we do – and having it distributed in every corner of the state – cannot be overstated."
The economic impact generated by the five-campus UMass system translates into a 10-to-1 return on investment for state government when total state funding for the University is considered, according to a Fiscal Year 2015 analysis performed by the UMass Donahue Institute, which conducts economic and public policy research.
The major drivers of economic impact are student, faculty and staff spending, construction projects and the University's purchasing the goods and services required for its activities. The study measured that spending and its ripple effect in determining the $6.2 billion impact estimate.

According to the Donahue Institute report, each of the five University campuses generated a substantial economic impact for its region and the state. By campus or unit, the figures were:
• Amherst: $2.069 billion
• Boston: $1.085 billion
• Dartmouth: $466.1 million
• Lowell: $921.9 million
• Medical School: $1.584 billion
• Central Administration: $198.4 million
The employment impact of 43,647 is derived from 16,777 people working directly for UMass along with 26,870 others – construction and hospitality-industry workers, delivery-service employees – whose employment to varying degrees flows from the University and its operations. According to the report, UMass construction projects supported 5,013 of the external jobs.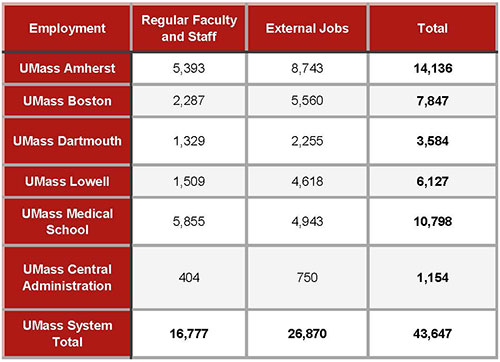 Business community reaction
Business community leaders described UMass as a key economic asset for the state and its regions.
"As the state's leading association of Massachusetts employers, we are impressed by the substantial economic impact that UMass has on the Commonwealth and all of its diverse regions. Our members benefit greatly from the University's production of talent, conduct of research, and provision of services to communities, as well as its extensive purchase of goods and services from Massachusetts businesses. In short, UMass is an outstanding economic asset to our entire state," said Rick Lord, President and Chief Executive Officer of Associated Industries of Massachusetts.
"The Mass. High Technology Council, Inc. enthusiastically supports the continued growth, development and influence of the University of Massachusetts. This new data confirms the sheer magnitude of the University's impact in emerging and established technologies, and our members know firsthand the critical importance of the University's education, research and service mission to our state's innovation economy," said Mass. High Technology Council President Christopher R. Anderson.
"This study demonstrates just how critical UMass Medical is to Central Massachusetts and its economy," said Kevin O'Sullivan, President and CEO of Massachusetts Biomedical Initiatives, a private economic development corporation based in Worcester. "In just a matter of decades, UMass Medical has become the engine that produces jobs, drives the economy and contributes so much to the quality of life in our region."
O'Sullivan added: "On a broader scale, we also see that the UMass system is responsible for $6.2 billion in economic activity across the Commonwealth. So, this is a story of statewide impact and statewide benefit."
"The University of Massachusetts and its flagship campus in Amherst continue to play a vital economic role in western Massachusetts, and these numbers show what we have long known and realized, a successful University of Massachusetts is good for the entire region and state," said Richard Sullivan, President and CEO of the Economic Development Council of Western Massachusetts.
The economic-impact report and projection produced by the UMass Donahue Institute rely on the Impact Analysis for Planning economic-impact model. A more extensive explanation of methodology is available in the report, which is available at:
https://donahue.umass.edu/documents/FY_2015_UMass_Economic_Contributions_-_FINAL.pdf.
About the UMass Donahue Institute
The UMass Donahue Institute (UMDI) is the public service outreach and economic development unit of the University of Massachusetts President's Office. Established in 1971, the UMDI coordinates multi-campus initiatives that link UMass, other public and private higher education institutions, and other external resources with the needs of government agencies, corporations, and nonprofit organizations. UMDI provides significant economic and public policy analysis, organizational development, training, education, financial management education, research, and evaluation to federal and state agencies, nonprofits, industry associations, and corporations. UMDI draws on its unique position within higher education to serve as a bridge between theory, innovation, and real-world applications.
Contact: Robert P. Connolly, 617-287-7073
Go Back