STEM Starter Academy Year 2 Evaluation Report Released
From the evaluation report's Executive Summary: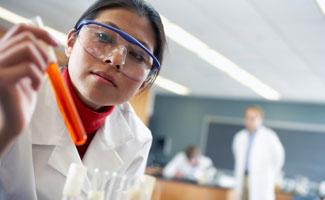 "The Massachusetts Department of Higher Education (DHE) awarded STEM Starter Academy (SSA) grants to each of the 15 community colleges in Massachusetts during FY14 and renewed those awards for FY15 and FY16. The SSA initiative is intended to support community colleges' efforts to inform, engage, recruit, retain, and graduate significantly more students and enhance their success in STEM pathway programs leading to job placements or 4-year college transfer. SSA sites have worked to address support service and activity gaps through extension of current programs, capacity building, or collaboration across campuses and to articulate these practices with current systems of student support. The UMass Donahue Institute (UMDI) is working with DHE to evaluate the SSA initiative, and this report presents findings from Year 2."
Go Back