State Data Centers and Census Bureau Celebrate 40th Anniversary of Partnerships
Published May 2, 2018
Written by Anna Carabeo, Public Information Office, U.S. Census Bureau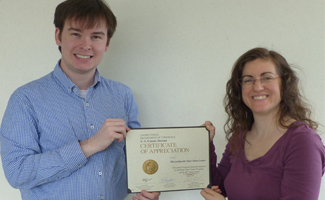 The U.S. Census Bureau is celebrating 40 years of partnership with the State Data Center (SDC) Program. The collaboration that began in 1978 is one between the agency and all 50 states, the District of Columbia, Puerto Rico, and the U.S. Island Areas.
Since the beginning of the partnership, the SDC network has provided access and education on Census Bureau data and products as well as other statistical resources to millions of data users. The long-term partnership helps make Census Bureau data available to the public through a network of state, regional, and local government agencies, universities, libraries, and chambers of commerce.
"The State Data Center Program is one of our longest and most successful partnerships,'' says Lakiva Pullins, chief of the Data Users Branch in the Customer Liaison and Marketing Services Office.
This year, the annual SDC meeting took place in Providence, Rhode Island, where the 2018 Census End-to-­End Test is taking place. Members spent two days learning and collaborating with Census Bureau subject matter experts on topics of interest to their communities regarding critical Census Bureau initiatives.
"The members were so excited to be at the annual training conference in Providence,where they could learn more about the 2018 census test and other critical decennial updates," says Pullins.
SDC lead members are appointed by the governor of each state/commonwealth, Puerto Rico, island area, or the mayor of the District of Columbia.
Their mission is to empower data users with understandable, accurate, and timely information from the Census Bureau. They also prepare and provide training and assistance, assist the agency in achieving its mission, and work with the agency on data usability, data user needs, and operational issues.

"We received some positive feedback - the SDCs suggested we host the conferences in different states each time since it is with the State Data Center Program - a little bit of data user humor," says Pullins. "Overall, I think everyone had a great experience."
---
More about the Massachusetts State Data Center: http://www.donahue.umassp.edu/statedatacenter.
(Picture at right: Research Analyst Michael McNally and State Data Center Manager Carrie Bernstein hold a certificate of appreciation from the U.S. Census Bureau. Carrie attended the meeting of state data centers in April in Providence, R.I.)
Go Back