Students represent nine countries and multiple backgrounds
On September 6th the newly arrived 2015 Young Southeast Asian Leaders Initiative (YSEALI) participants shared a meal at Bistro 63 in Amherst and discussed expectations for their five week civic engagement program this fall. The 21 YSEALI participants represent the countries of Burma, Brunei, Cambodia, Laos, Thailand, Singapore, Vietnam, Malaysia, and the Philippines. The University of Massachusetts Civic Initiative will run the program with the support of the U.S.. State Department.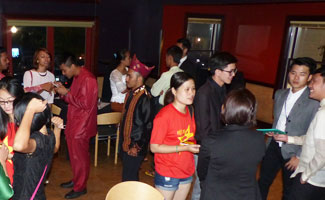 "The students arrived from Asia a few days ago and we had small groups do a scavenger hunt that got them oriented to Amherst and Northampton. Tonight's program is the real start to their experience as a larger group and a chance to have some fun," said Michael Hannahan, UMass Civic Initiative Director. "They will be busy for the next five weeks."
The Bistro 63 event included mingling, dinner, short remarks by Dr. Hannahan, and was topped off with dancing along to music provided by the YSEALI students.
The program includes a UMass political science course with other undergraduates; a community service project with the Kestrel Trust; visits to Boston, New York City and Washington D.C.; and a home visit dinner with local families.
The program's focus will include students' learning and experiencing the various means that citizens express civic engagement with local, state, and federal government. These include voting, organizing, writing, direct participation, and protesting. They'll also learn about non-traditional methods of engagement like music, art, and literature.
Go Back