Dinner and/or overnight hosts needed for teachers and students from Pakistan. Iraq and Southeast Asia
Teachers and students from across the globe will be in Amherst in the coming months as part of several U.S. Department of State international programs run locally by the University of Massachusetts Civic Initiative. In the spirit of cultural exchange, Amherst-area residents are invited to be "civic hosts" for either dinners or overnight stays with the visitors.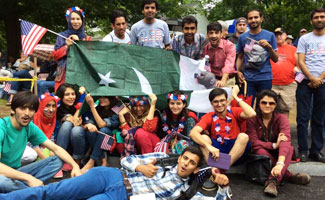 The Civic Initiative, a business group of UMass Donahue Institute, is dedicated to promoting democracy through education in both the U.S. and abroad. For the last 13 years, it has brought a select group of students, scholars and professionals from around the world to the UMass Amherst campus for courses that examine modern politics and public policy as well as for community-based, collaborative projects that offer practical, real-life experience.
"The casual conversations that take place during homestays open up whole new insights into the society, culture and politics of other countries," said Mike Hannahan, director of the University of Massachusetts Civic Initiative. "Many of our past participants have said their home visits were their most important window on life in the U.S. Our past hosts have said the experience was incredible and those with children have said the visits allowed their kids a glimpse into the diversity of the world."
Local residents may either host a few (usually 2) participants for dinner or an overnight stay. Hosts often choose to include a local activity like a movie, walk or a local sporting event. UMass staff provide transportation for the program participants to and from the host's home.
Overnight hosts needed: Pakistani Young Leaders program (between June 25th and July 25th) and the Young Southeast Asian Leaders program (between September 4th until October 4th). The overnight homestay is only for one night.
Dinner hosts needed: Pakistan Teachers program between May 25th and June 25th and Iraqi Young Leaders program between June 25th and July 25th.
Hosts can volunteer for multiple programs or multiple visits.
Interested persons can contact Civic Initiative director Mike Hannahan at mhannahan@donahue.umassp.edu.
Go Back