Parents and early intervention professionals learn from each other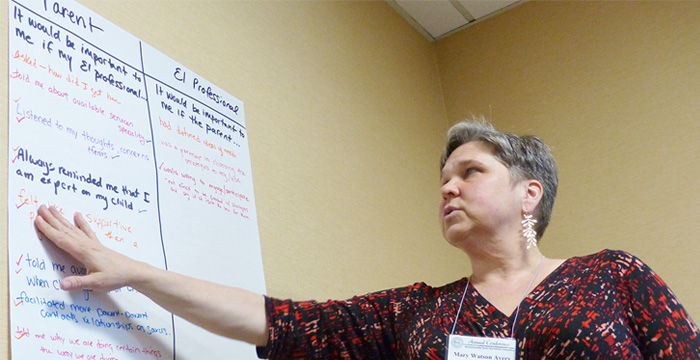 At the recent Massachusetts Early Intervention Consortium conference in Marlborough, MA, a presentation by Mary Watson Avery, Director of Connected Beginnings Training Institute, brought together early intervention professionals and parents receiving early intervention services for their children, with a focus on building mutually beneficial communications strategies.
Connected Beginnings Training Institute (CBTI), a business group of UMass Donahue Institute, builds the capacity of infant and early childhood practitioners to engage in nurturing relationships with families and the very young children in their care. These efforts include support to the the range of professional disciplines represented in the field of early intervention (EI), which refers to the services provided to young children and their families including, but not limited to, toddlers, infants, those with special needs, and others considered at risk for developmental delays or disabilities.
The group of 20 parents and practitioners participated in several interactive exercises followed by discussions. One exercise included questions on communication from the perspectives of both parents and EI professionals. One set of prompts asked participants to finish the following sentences, including "It's easier when my EI professional…" and "It's easier when the parent…". Another set of prompts included "It would be important to me if my EI professional…" and "It would be important to me if the parent…".
"As a parent in an interaction with an EI professional, sometimes you don't realize what you know is significant in regards to early intervention," Watson Avery added. She then gave an example of a parent who was aware of what they regarded as a common habit of their child but then later learned that the behavior was considered an indication of a developmental delay. Other times, the parent may feel unsure of what's best for their child and may doubt themselves compared with an EI professional whom the parent may think knows all the answers. One parent participant summed it up this way, "We just want to feel safe and supported in these conversations with EI professionals."
"Being able to consider the other's perspective is essential to improving communication. Improved communication can in turn promote more productive parent/EI professional relationships, and can lead to a more accurate assessment of the child's needs, strategies, successes, and challenges," said Watson Avery. "Improved communication can also promote shared understanding, which in turn may create a less stressful atmosphere in which to receive early intervention services."
The Massachusetts Early Intervention Consortium Conference is an annual educational event for service providers and families of children ages birth to three who have or are at risk for developmental delays. The diverse group of attendees included early childhood educators, behavioral educators, child care providers, nurses, physical therapists, occupational therapists, speech-language pathologists, audiologists, social workers, mental health counselors, psychologists, program administrators, parents, higher education faculty, and students.
Go Back