Pakistani young leaders to hold food drive benefitting the Food Bank of Western Massachusetts July 20 at Walmart in Hadley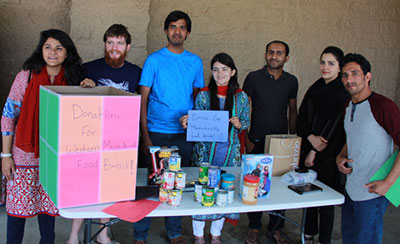 For the sixth straight year, the UMass Civic Initiative's Pakistani Young Leaders program will hold a food drive outside the Hadley Walmart at 337 Russell Street in Hadley. The drive will occur from 10am to 4pm on Wednesday, July 20. All proceeds and donations will benefit the Food Bank of Western Massachusetts. Food insecurity affects 49 million Americans. In western Mass. alone, more than 211,000 people face hunger. The monetary and nonperishable healthy food donations on July 20 help the Food Bank lead the fight against local hunger. Additionally, such a food drive gives the visiting Pakistani students an opportunity to directly and meaningfully help the community of which they are temporarily a part this summer. Over the past six years hosting this annual food drive, the program has collected thousands of dollars and hundreds of pounds of food.
This year's Pakistani Young Leaders are 29 visiting undergraduate students ages 19 to 24 who were chosen out of over 600 applicants. The students are here to partake in a six week public policy leadership institute hosted at the University of Massachusetts and funded by the U.S. State Department. The program not only serves to strengthen relations between the U.S. and Pakistan, but also provides a cultural and academic experience students will remember and grow from for the rest of their lives.
Go Back