ODLS Staff Spotlight: Kathryn Swaim
Kathryn Swaim, Senior Program Manager for Online, Collaborative & Virtual Learning Solutions

Please tell us a little about yourself.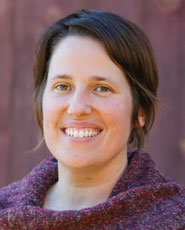 I'm a very proud graduate (2004) of UMass Amherst's University Without Walls program and then got my MS in Organizational Development and Management at Antioch New England in Keene (2007).I'm in my 7th year at UMDI. My first day, January 20th, 2009 was extra special because it was also the same day as President Obama's first-term inauguration and it was projected live onto the cafeteria wall in Shrewsbury where I watched it along with lots of other staff.
What is your role at the Institute?
I came into the institute as the coordinator for our Comprehensive Cancer Prevention and Control contract with the Department of Public Health and am still very pleased to be working with the same program and program staff. During this time we helped MCCPCN develop and coordinate their 2011-2016 state plan and we are now privileged to be helping them develop their 2017-2021 state plan. I'm also a senior program manager for online learning and virtual collaboration. In this role I work with e-Learning software (Storyline), Learning Management Systems (Blackboard) and Adobe Connect to meet our client's on-demand learning solutions that either happen live (synchronous) or can be accessed by the learner at any time (asynchronous).
What inspires your work?
I'm inspired by a combination of the initiatives we work on that aim to address the complex social and public health related issues in Massachusetts and across the country, and by the clients we work with who are driving those initiatives: passionate and innovative content experts, facilitators, and managers across all business sectors.
What is your favorite part of your work?
I would have to say my sweet, mighty, and incredibly hardworking ODLS team and all my buddies here in our Hadley office.
Go Back