ODLS Staff Spotlight: Dana Bienkowski
Learn more about the multi-faceted support that our Fiscal and Project Coordinator provides to the Institute's Organizational Development & Learning Solutions group.
Please tell us a little about yourself.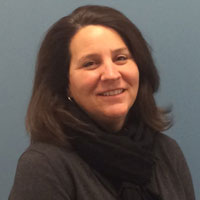 I came to ODLS in 2014 after spending 10 years as an elementary school librarian. While that may seem like a dramatic career change, I do have a background in financial services, having spent many years working for a privately held investment advisory firm in Boston. I have two boys heading off to college this fall, and my husband, the dog and I are looking forward to some new adventures now that our nest is empty.
What is your role at the Institute?
I am the Fiscal & Project Coordinator for the Organizational Development and Learning Solutions business unit. That means I supports all training program, event, client events, and project work.
What inspires your work?
There is such a commitment toward growth and education within the UMass Donahue Institute – not just for our clients but for staff. That commitment inspires me to move beyond my comfort zone and learn new things and expand my role. When I look back at the short two and a half years I have been here, it is really gratifying to see where this job has taken me, and the tasks I have been encouraged to take on.
What is your favorite part of your work?
My job is never the same from day-to-day. I might be sitting at my desk crunching numbers one day, and supporting a large learning event the next. Every contract, every client, every project is just a little different and that means I am learning something new every day.
Go Back