New England Head Start training group a major contributor to annual meeting
In early May the New England Head Start Association (NEHSA) held their annual meeting in Breton Woods, New Hampshire. The meeting was organized by the Association in collaboration with the New Hampshire Head Start Directors with the support of the Institute's New England Head Start Training & Technical Assistance group.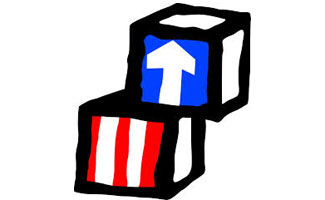 The meeting's theme was "Pathways to Resilience: Supporting the Progress of Young Children and their Families" and the Institute's training and technical assistance team led the following workshops:
Implementing Practices and Strategies to Fidelity", led by Early Childhood Specialist Andrea Urbano
Taking Care of Others: Taking Care of Ourselves Formally", led by Early Childhood Specialist Sharon Adams
Positive Solutions for Parents: Why Do Children Do What They Do?", led by Co-Director and Regional Early Childhood Manager Ruth-Ann Rasbold and Early Childhood Specialist Shannon Shaw
Trauma Stewardship: Strategies for Working With Children" led by Sharon Adams
In addition, the Institute's team was able to secure the help of three National Centers. Brandi Black Thacker from the National Center on Parent, Family, and Community Engagements conducted workshops on "Raising Resilient Children", "Goal Setting when Trauma is Impacting Families", and Partnerships. Angela Fisher from the National Center on Early Head Start-Child Care Partnerships presented "Building Partnership Capacity to Support Infant and Early Childhood Behavioral Health.
Also, Amy Hunter from the National Center on Early Childhood Health and Wellness offered a session about families' mental health, in particular perinatal depression. In addition, Dr. Hunter was the conference's closing keynote speaker, addressing "Caring for Others and Ourselves in Stressful Times".
NEHSA works with, and on behalf, of children, families staff and Early Head Start/Head Start programs located throughout Connecticut, Maine, Massachusetts, New Hampshire, Rhode Island and Vermont. It provides a forum for networking, shaping public policy, and the delivery of training to promote high quality services for children and families; fosters communications and share best practices among programs in the region; and works to inform policies that impact the Head Start and Early Head Start communities in the region and nationally.
"In attendance were directors, managers, staff, parents, and other leaders from all six New England States. They were there to learn about how to better support children and families experiencing trauma or challenges," said Rosario Dominguez, co-director of New England Head Start Training & Technical Assistance. "Families and children impacted by the opioid crisis was a major concern. In the process, they were reminded of the importance of their own wellness. Participants walked away with a toolbox of self-care activities using movement, music, mindfulness and other strategies for themselves and for the staff, families, and children they work with."
Since 2003, the United States Department of Health and Human Services, Administration for Children and Families has contracted with the Institute to provide services to Head Start and Early Head Start programs throughout New England.
Go Back