MassBenchmarks celebrated for 20 years of assessing the commonwealth's economy
Event also highlights history and future of the Massachusetts economy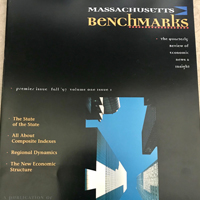 On September 26th, the Boston Federal Reserve Bank was the site of the 20th anniversary celebration for the MassBenchmarks project. MassBenchmarks is an initiative of the University of Massachusetts Donahue Institute, managed and staff by the Institute's Economic & Public Policy Research group. Since 1997, MassBenchmarks has mobilized economic experts within the University of Massachusetts system and from other public and private research institutions around the state to produce and distribute relevant assessments of the Massachusetts economy through reports, commentary, and analysis.
The event started with welcoming statements by UMass President Marty Meehan and Housing and Economic Development Secretary Jay Ash. Then the current trends and future challenges for the Massachusetts economy were addressed in presentations, respectively, by Dr. Alan Clayton-Matthews, Northeastern University and MassBenchmarks Senior Contributing Editor and Dr. Robert Nakosteen, UMass Amherst Isenberg School of Management and MassBenchmarks Executive Editor.
The event concluded with an economics discussion by several members of the MassBenchmarks Editorial Board about "What Keeps You Up At Night?", moderated by Mark Melnik, director of the Institute's Economic & Public Policy Research group which produces each issue.
Follow the ongoing Twitter discussion of #MassBenchmarks.
For future issues and announcements, visit www.massbenchmarks.org or subscribe to MassBenchmarks.
Go Back