Institute to assist City of Boston in exploring "creative industries" workforce initiative
Institute teams with the Center for Social Policy at UMass Boston
From the City of Boston press release: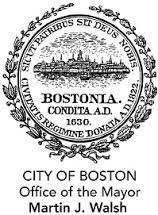 Building on his commitment to integrate arts and culture into all aspects of city life, Mayor Martin J. Walsh today announced that the UMass Donahue Institute (UMDI) and the Center for Social Policy (CSP) at UMass Boston will conduct a feasibility study for the design of a new Creative Industries workforce development program for the City of Boston. The program will identify career pathways for Boston residents in the city's expanding Creative Industries sector.
"The City of Boston possesses tremendous creative capital in the talent and vision of its residents," said Mayor Walsh. "We look forward to working with the UMass Donahue Institute and the Center for Social Policy at UMass Boston to devise a workforce program that can turn our creative capital into innovation and growth for our economy – and quality jobs for our workers."
"We're really excited about working with the City and applying our past experiences studying New England's creative economy and other workforce development issues to Boston," said Mark Melnik, director of the Economic & Public Policy Research group at UMass Donahue Institute. "Our research team is deeply familiar with both the other existing research on the creative economy, as well as best practice techniques essential to regional workforce development planning."
The Creative Industries workforce development program – a partnership of the Mayor's Office of Workforce Development (OWD), Emerson College and Massachusetts College of Art and Design (MassArt) – will help residents compete in the creative economy, which includes such fields as visual and performing arts, written media, film, broadcasting, software publishing, and culture education. Boston's creative economy is projected to grow by 7 percent over the next 10 years, adding approximately 1,800 jobs. As part of the Boston Creates Cultural Plan, the workforce development program will promote pathways to creative careers as a concrete step towards engaging more residents in the city's cultural future.
"We're thrilled to see the City of Boston and partners involved take these important steps in workforce development to create pathways in creative industries," said David Hartman, director of the Massachusetts Production Coalition. "As representatives of the film and media production industries, our growing slice of the creative economy creates a vast range of quality jobs and career opportunities for local residents. Initiatives like these are vital to ensuring we have a diverse and prepared workforce that represents the communities we live in and work among. We look forward to supporting in whatever capacity we can to see this initiative succeed to its greatest potential."
In August 2017, OWD issued a Request for Proposals (RFP) for a feasibility study for the Creative Industries workforce development program. A review panel, which included representatives from OWD, the Mayor's Office of Arts and Culture, Emerson College, and MassArt, selected UMDI and CSP's submission from among eight proposals. Both organizations demonstrated strong expertise: UMDI has previously led a study on the creative economy of New England, while CSP has collaborated with OWD to evaluate career pathways in other industries.
In the feasibility study, UMDI and CSP will identify existing and potential educational programs for Boston residents that provide tangible careers in creative industries. This information will be used to help such stakeholders as Boston Public Schools, local nonprofits, and institutes of higher education (particularly Emerson College and MassArt) align their efforts with employers' needs.
About the Boston Creates Cultural Plan
The cultural plan was created out of a year-long community engagement effort designed to help local government identify cultural needs, opportunities, and resources and to prioritize, coordinate, and align public and private resources to strengthen cultural vitality over the long term. The Boston Creates process was funded by The Barr Foundation and The Klarman Family Foundation. The full cultural plan can be found online at http://plan.bostoncreates.org.
About the Mayor's Office of Arts and Culture (MOAC)
The Mayor's Office of Arts and Culture's mission is to support artists, the cultural sector, and to promote access to the arts for all. The office houses the Boston Cultural Council, the Boston Art Commission, and the Poet Laureate program. Responsibilities include implementing the City's cultural plan, Boston Creates; commissioning public art, managing the Boston Artist-in-Residence program; curating exhibitions in City Hall; and operating the historic Strand Theater in Dorchester. For more information go to: www.boston.gov/departments/arts-and-culture
About the Mayor's Office of Workforce Development
The Mayor's Office of Workforce Development (OWD) is an innovative agency within the Boston Planning & Development Agency that seeks to ensure the full participation of all Boston residents in the city's economic vitality and future. The OWD funds and oversees programs that promote workforce development through education, jobs training, apprenticeships, financial coaching, career pathways, literacy initiatives, and the like. Please visit OWD.Boston.Gov to learn more about the OWD's work.
About UMass Donahue Institute
The University of Massachusetts Donahue Institute is the public service, outreach, and economic development group of the University of Massachusetts President's Office. Established in 1971, the Institute strives to connect the Commonwealth with the resources of the University, bridging theory and innovation with real world public and private sector applications. For more information, www.donahue.umassp.edu.
About UMass Boston Center for Social Policy
The Center for Social Policy researches the root causes of economic hardship, examines the intersection of public policies and employer practices, and crafts solutions in order to boost social and economic well-being. Based in the McCormack Graduate School of Policy and Global Studies, we collaborate with faculty across the University of Massachusetts Boston and work closely with community partners. For additional information, please visit www.umb.edu/csp.
Go Back