Hawaii-Outer Pacific Institute focuses on Head Start staff-well being and building an effective workforce
In April 2023, the Head Start National Center on Program Management and Fiscal Operations (aka "PMFO", a business group of the institute) conducted a two-day Early Childhood Workforce training as part of a five-day Hawaii-Outer Pacific Institute on the Hawaiian Island of Kauai. The PMFO team included UMASS Amherst's Heather Peasley, Program Management and Governance Specialist and Mark Mazon, Fiscal Specialist. They were joined by PMFO's Director of Professional Development, Jacquie Davis. Attendees represented Palau, Samoa, Guam, Northern Marianas Islands (CNMI), Maui, Kauai and Honolulu. The training caught the attention of Kauai's mayor, Derek S. K. Kawakami. He joined the session, snapped some photos and shared a brief message.
The PMFO team focused on: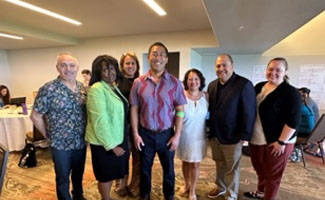 Staff Retention and Staff Wellness:
Emotional Intelligence: Examined the use of emotions and cognitions as a source of energy so we can communicate, motivate, manage change, inspire, persuade, and resolve conflicts. Introduced the group to emotional intelligence and diversity (EQD)

Attracting and Retaining New Staff: Focused the group on engagement, culture, well-being and work-life balance.

Staff Wellness and Uncertainty: How Leaders Can Retain Their Staff. Jim Kouzes and Barry Posner, the authors of "The Leadership Challenge" say, "Leadership is within the capability of every person as long as he or she is open to seeing the opportunities and trusts that he or she can make a difference." Connecting this quote to staff wellness and uncertainty was an "ah-a journey" for the group.
Building an Effective Workforce:
Organizational Culture: Explored the values, beliefs, and norms that influence the behavior of people as members of an organization are the embodiment of culture.

Communication Creatively: Designed to provide opportunities for the group to experience transformational listening and the languages of appreciation.

Habits of High-performing Teams: Josh Bersin, author of Irresistible says, "Organizations that are thriving in this work environment are agile, engaged and empowered. They operate as a 'network of teams' which means teams are the center of the work." The group was guided through an engaging host of interactivities that focused on how to value each other's strengths, more effectively relate to one another, avoid potential conflicts, boost group cohesion, and create positive dialogue.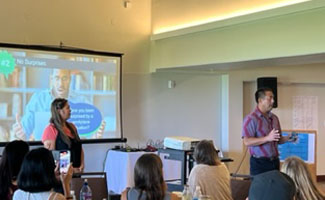 "The presentation was relevant, relatable and the staff's energy was contagious!", remarked an attendee.
The UMass Donahue Institute operates the PMFO in collaboration with Family Health International 360, the University of California Los Angeles, and Zero to Three. PMFO supports the dissemination of clear, consistent messages on the federal Office of Head Start priorities for the development and implementation of sound management systems and strong internal controls.
PMFO's work includes, but is not limited to risk management, governance, data collection and analysis, budgeting and management of multiple funding sources.
The Center also helps organizations to implement and enhance the infrastructure necessary to support a well-managed system of early care and education (ECE). PMFO's activities and products support continuous quality improvement in program leadership. This includes the creation of materials, webinars or webcasts, and training modules on program governance, management, and fiscal operations that address governing body roles and functions. Training and Technical Assistance (TTA) is evidence-based and is delivered to regional TTA providers, Head Start and Early Head Start agencies, and other ECE settings across regions, tribes, and territories.
Go Back