Visiting Iraqi scholars to hold fundraiser for the Amherst Senior Center on July 21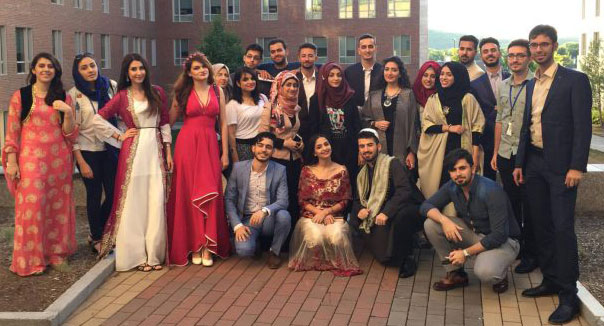 As a fundraising event for the Amherst Senior Center, a group of visiting Iraqi scholars will host a cultural presentation at 7:30pm on July 21 at Bistro 63 at Monkey Bar in Amherst. The public is invited and donations will be accepted at the door.
The Iraqi Young Leaders Exchange Program (IYLEP) participants will share stories of their lives in Iraq through a slide show, singing, dancing and talking with event guests. Every summer since 2010 the University of Massachusetts Civic Initiative, a part of UMass Donahue Institute, has hosted groups of scholars from Iraq as part of a public policy studies program. Since 2012, the visiting groups have assisted the senior center.
Public policy education for group has included courses at UMass Amherst on the many ways public policy affects society. The goal of the program is provide inspiration to the program participants to affect social change in their home country. The IYLEP visits are sponsored the U.S. State Department.
The University of Massachusetts Civic Initiative, a business group of the UMass Donahue Institute, promotes democracy through education in both the U.S. and abroad. Each year, the Civic Initiative brings several select groups of students, scholars, and professionals from around the world to the UMass Amherst campus for courses that examine modern politics and public policy. The groups also include cultural and community-based activities during their multi-week visits. In 2016, visiting groups will include approximately 140 visitors from nearly 30 countries.
Go Back