During pandemic, Civic Initiative alumnus helps lead "My Home My School" initiative in rural Pakistan
When the coronavirus pandemic closed schools in the Pakistan province of Balochistan, students found themselves at home without instruction. In response, the local chapter of UNICEF partnered with the Education Department of Balochistan to support both students and their parents with online educational resources. The program, "My Home My School" ("Mera Ghar Mera School" in Urdu) includes both online instructional videos for the students as well as support for parents through WhatsApp groups.
Muzamil Panezai, a program manager with UNICEF Pakistan, is coordinating the content and chat groups. "To smoothly disseminate the educational videos and so that kindergarten-to-fifth grade students receive proper instruction, group norms were first disseminated into the adult WhatsApp groups. I worked with my colleagues in Education Directorate in the Balochistan to send the learning resources to the students' families," said Mr. Panezai.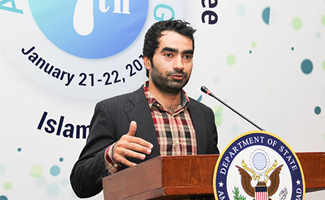 Mr. Panezai is an alumnus of the Study of the U.S. Institutes for Scholars (SUSI) program administered by the UMass Civic Initiative. In 2013, Mr. Panezai spent six weeks on the UMass Amherst campus learning about public policy from an American perspective. SUSI is funded by the U.S. Department of State.
Over 12,000 adults are now members of 300 WhatsApp groups created under 'My Home, My School'. "The groups were initially formed to coordinate school-related planning between parents, teachers and local community members," added Mr. Panezai. "Now, these groups have increased tenfold to provide everyday learning videos to parents for making children learn at home." They also provide parents, teachers and community members with information on how to protect oneself from the coronavirus and how to stay physically and psychologically fit.
Before the pandemic and its social distancing requirements took hold, Panezai was primarily focused on leading an in-person continuous professional development program for teachers at the primary and middle levels in government school teachers. Now, he has also continued this program virtually. "Through the Zoom app we are able to replicate professional development days. Every day, 30 government teachers come online for training from UNICEF focused districts."
Mr. Panezai is not only an alumna of the Civic Initiative but he has returned to UMass work as a mentor in recent summer exchange programs. He has also been heavily involved in a teacher training program and logistics and planning for the frequent visits by UMass staff to Pakistan.
Learn more about My Home My school.
Follow UNICEF in Pakistan: @UNICEF_Pakistan
Go Back