Despite international travel challenges, the Civic Initiative continues worldwide reach
The Civic Initiative's programs for the summer were canceled but there have been a number of opportunities in the fall to virtually connect with the world and program alumni.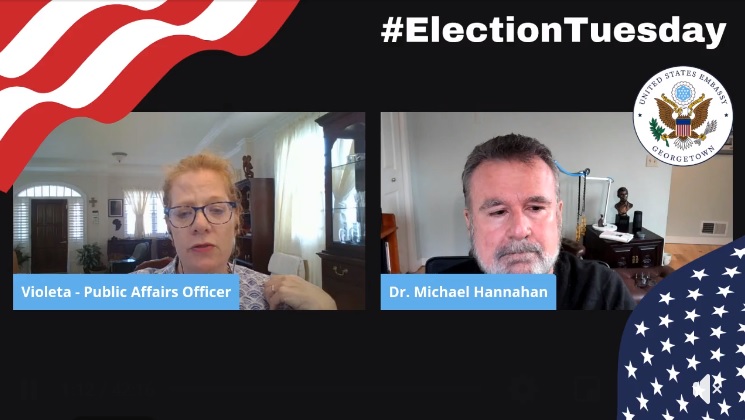 Civic Initiative Director Dr. Michael Hannahan is a member of a number of U.S. Department of State speaking programs and he has been busy speaking to, or preparing to speak to, international groups about the upcoming election. The first program was hosted by the U.S. Embassy Singapore on July 23rd. The topic was "Picking the U.S. President" and was attended by 147 participants -- the largest on-line event they have ever hosted. Future talks with similar topics are all sponsored by the local embassies:
Argentina, October 19
Azerbaijan, October 22
Guyana, October 27
Jordan, November 2
Egypt, November 5 (Post-election analysis)
Dr. Hannahan will also be a panelist on "Constitutional Issues and the Election" hosted by the University of Texas, Austin, on September 18th. He is also a part of the Distinguished Lecture Series hosted by the Lenox (MA) Library where he'll speak about the U.S. elections on October 18.
Learn more here: https://lenoxlib.org/event/distinguished-lecture-series-michael-hannahan/.
In August, a reunion of sorts happened for the 2019 cohort of the Entrepreneurship & Economic Development SUSI (EED) program. A Zoom call was attended by a dozen alumni as well as Civic Initiative staff and members of the Meridian International Center team. Alumni all shared personal updates and stories as well as how the COVID lockdown has affected them in their countries. Several have graduated since their participation in the US exchange, several are still in college and two alumni are currently interning in France. Dr. Hannahan ended the call with a brief update on the COVID situation in the United States and shared plans for more alumni engagement in the coming months. The EED reunion meet-ups will continue in the coming weeks including next week a presentation on social mobilization. Follow-up virtual meetings with the EED program alumni will occur in September and October.
Go Back