Connecting with babies and their families….even when it's hard
Connected Beginnings Training Institute talks to Early Head Start providers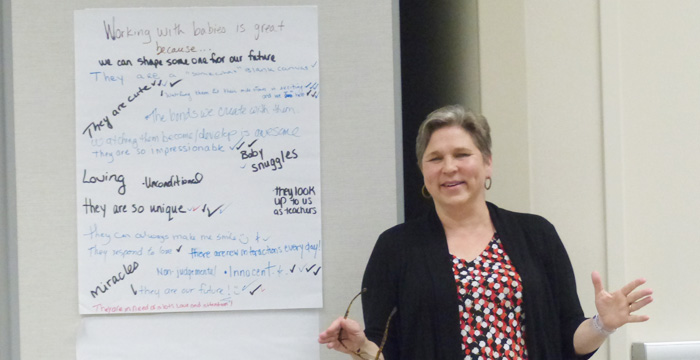 Mary Watson Avery, Connected Beginnings Training Institute director, recently led a discussion with over 60 Early Head Start caregivers and trainers in Nashua, New Hampshire. Early Head Start is a federal program provided nationwide to prenatal mothers and children up to three years old and their families.
Mary's talk, "Connecting with babies and their families…even when it's hard", focused on how Early Head Start professionals can build and sustain relationships with the very young children they care for and their primary caregivers.
This included reinforcing the practice of essential professional skills when it comes to working with families, including:
Self-reflection,
Shared reflection, and
Perspective-taking.
Avery then led a group activity of finishing several prompts of self-reflection including:
Working with babies is great because...
Working with babies is hard because...
Working with families is important because...
Working with families is hard because…
It is easier to work with parents when they…
I wish families knew…
It was acknowledged that some families can bring with them difficult situations and conjure up troubling feelings. These are tough situations that need to be recognized and discussed. These kinds of practices are "not about getting a 'tougher skin'", said Avery, "but rather about getting your 'sea legs' that are supportive and strong."
"Taking care of yourself is never wasted time," added Avery.
Go Back