Census preparation "road show" travels the state to educate local governments
12 workshops cover the state from October to December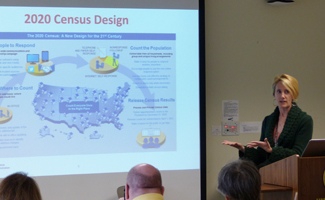 The 2020 Census Local Update of Census Addresses Update opertion (LUCA) is underway.
LUCA is the only opportunity offered to tribal, state and local governments to review and comment on the U.S. Census Bureau's residential address list for their jurisdiction prior to the 2020 Census. The Census Bureau relies on a complete and accurate address list to reach every living quarters and associated population for inclusion in the census. The workshops help government officials ensure an accurate census occurs in their community in 2020. The census helps to guide the distribution of more than $400 billion in funds annually for infrastructure, programs, and services.
Recently in Hadley, MA the staff from the office of the Secretary of the Commonwealth and the Institute's Population Estimates Program ran a workshop for officials from the Pioneer Valley.
Go Back