CareerWorks and the Brockton Rox team up for second year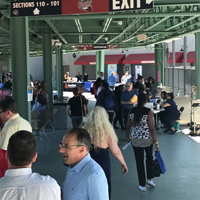 On June 19, CareerWorks was at Campanelli Stadium for its second annual job fair at the home of Brockton Rox. The fair included over 45 employers and 125 job seekers. All of the job seekers received a ticket for that evening's game. Employers and job seekers were given tours of the facility and were able to watch batting practice and to mingle with the Rox players.
For the employers, former Boston Bruin and UMass Lowell hockey coach Bruce Crowder spoke at a pre-game networking session.
While many job seeker attendees at the fair were current CareerWorks members, many new members were signed up to immediately start accessing employment services. To become a CareerWorks member, go here for more information. Membership is open to anyone.
CareerWorks thanks the Brockton Rox for their support with the fair.
Go Back