Career Fair in Randolph Matches Job Seekers and Employers
Event hosted by MassHire Greater Brockton Career Center.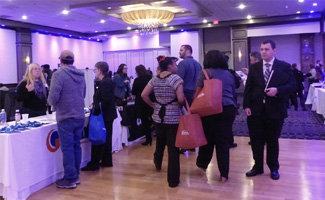 Today in Randolph was the fall installment of a twice-a-year tradition gathering local employers and job seekers in the same room. The Career Fair was presented by the MassHire Greater Brockton Career Center, a group of the UMass Donahue Institute.
A few of 50 employers in attendance included Amazon, W.B. Mason, 7-Eleven, Viking Cruises, Bridgewater State University, and New York Life. Businesses represented a wide range of sectors including senior care, shipping/receiving, healthcare, retail, manufacturing, food service, and human services, amongst others.Lombardo's in Randolph provided a convenient location in the Metro South region of Greater Boston. Over the course of the event, 300-400 job seekers talked with the employers. Many pre-registered while others arrived at the event having heard about the event through co-presenting sponsor, Wicked Local Media. Other sponsors included ZipRecruiter and GateHouse Recruitment.
MassHire Greater Brockton Career Center serves both employers and job seekers in Brockton Abington, Avon, Bridgewater, East Bridgewater, Easton, Hanson, Stoughton, West Bridgewater and Whitman. It's part of a statewide career center network called MassHire.
Go Back